Obsession by Bonnie Vanak
(Werewolves of Montana Mating Mini #2)
Publication date: February 16th 2015
Genres: Erotica, Paranormal Romance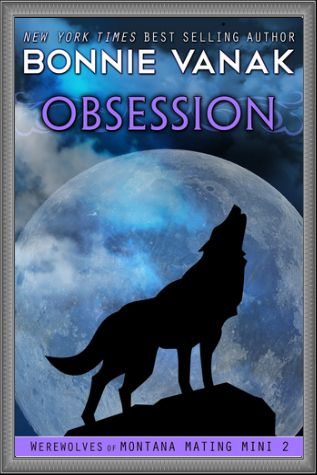 He comes to her in a dark dream promising sensual pleasure – sexy, tempting and dangerous. Raphael is an obsessed wolf with one thing on his mind. He wants Jessica naked beneath him, and nothing will stop him until he has her in his bed.
Jessica Tyrell is a Lupine with a mission – find her missing brother, her only living blood relative. Now, with the help of magick crystals, her dream can come true. All she needs is to hack into restricted records at her friend Alexa's ranch. The only thing standing in her way is Raphael Amador, head of pack security. The wolf wants her with the same ruthless intent he displays in protecting the pack. Jessica knows if she surrenders to his sensual allure, she could lose her soul to Raphael.
Haunted by his tortured past and determined to never love again, Raphael finds his passion awakened by the lovely redhead, who threatens his control. He has vowed to seek revenge against the man who killed his intended mate and scattered his pack. Can he experience a night of pleasure with the lovely redhead and pursue his goal of revenge, or will Jessica capture his broken heart?
Buy Links:
You can also purchase book one here:
He parked a lean hip against the tree's trunk and folded his muscular arms. In his red flannel shirt, with the sleeves rolled up to display tanned forearms, and faded jeans with scuffed Western boots, he looked like an ordinary cowboy. But there was nothing ordinary about this Lupine.
Curls the color of blackest night spilled down to his collar. His strong jaw was covered by a close-trimmed beard, and a crisp mustache framed a mouth far too sensual for a man. But there was nothing sensual about the sharp, angular features of his face nor the darkness of those brown eyes.
Those eyes seemed ageless, and ancient pain lurked in their depths as he gazed down at her.
Jessica studied the acres of green pasture, the gleaming buildings, and thought about the expensive motor cars parked in the garage. "It must be nice to be wealthy," she mused.
"There are worse things than having no money," he said quietly.
"Easy to say when you have plenty of it."
"I'd trade all the money in the world to regain what I've lost."
He looked dark and dangerous and yet he had an air of vulnerability.
"What did you lose?"
Raphael shook his head. "Another time, little one. Perhaps one night I will share that information."
"You don't believe in sharing during the day?"
His gaze became hooded. "With you, I would much rather share…things… at night."
Jessica felt her entire body flare with heat. Every time he gazed at her with those bedroom eyes, she felt a jolt of sensual awareness.
Her Lupine nature, with all its raging hormones and sexual need, howled for release.
But his seductive gaze wasn't centered on her face now. He stared at her curls.
"What's wrong? Never seen a redhead before?"
"Not of that color. I have met some red wolf Lupines, but their coloring is darker." Raphael left the tree, approached her. Before she could squeak a protest, he wrapped a strand of her hair around his index finger.
"It is like living flame that does not burn. But do you burn, Jessica? Burn with the desire all our kind possesses?"
Q&A with Bonnie Vanak, author of Obsession
Q: Are you a plotter or pantzer when it comes to writing?
A: I'm a "plantzer." I do both. In addition to writing my self-published Werewolves of Montana series, I also write for Harlequin, so I have to turn in a synopsis. A synopsis is a terrific writing tool. With my Werewolves of Montana books, I'll write a basic synopsis when I'm starting a new story. It helps me to gain a good idea of the characters' motivations and emotional conflict.

Q: Do you prefer an alpha, beta or gamma hero?
A: Alpha, definitely. Love writing and reading about alpha males. In my new Werewolves of Montana Mating Mini, Obsession, the hero is an alpha werewolf who lost his pack.

Q: Which would you rather read, historical or contemporary romance?
A: Historical romance. My first books were Egyptian historicals. I had so much fun researching the Victorian time period of Egyptian history when archaeology was extremely popular. I included a real historical character, Flinders Petrie, in The Falcon and the Dove, my first book. There's a fun scene in Obsession, where I include excerpts from The Falcon and the Dove, as the heroine is reading it. Jessica is a werewolf who adores reading romance novels!

Q: Do you prefer print or ebooks?
A: Both! I do a lot of travel for the day job (I work for a charity and travel to places like Haiti and Honduras) so I read a lot on the plane. I also have a stack of books on my nightstand. But I love reading on my phone. I have both a Kindle app and a Nook app.

Q: What's next in your Werewolves of Montana series?

A: Passion, the third Mating Mini, will be released next month. And I'm working on Redemption, the fourth Mating Mini, and The Mating Challenge. The Mating Challenge is Aiden's book. He's the leader of the Mitchell pack in Montana, a very sexy alpha wolf who has been pursuing Nikita Blakemore, alpha female of the rival Blakemore pack. I'm planning to release Aiden's book this summer. I already have the cover and if you "like" my Facebook page, you'll see it posted there.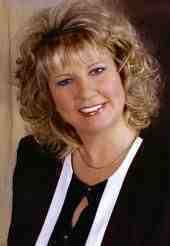 Bonnie Vanak fell in love with romance novels during childhood. While cleaning a hall closet, she discovered her mother's cache of paperbacks and started reading. Thus began a passion for romance and a lifelong dislike for housework.
After years of newspaper reporting, Bonnie became a writer for a major international charity. She travels to destitute countries such as Haiti to write about famine, disease and other issues affecting the poor. When the emotional strains of her job demanded a diversion, she turned to her childhood dream of writing romance novels.
She lives in Florida with her husband Frank and two dogs, where she happily writes books amid an ever-growing collection of dust bunnies.
Author Links:
Book Blitz Organized by