Review & Book Lover's Giveaway
Helia's Shadow is for fans of The 5th Wave (Rick Yancey), The Hunger Games (Suzanne Collins), Divergent (Veronica Roth), and Legend (Marie Lu).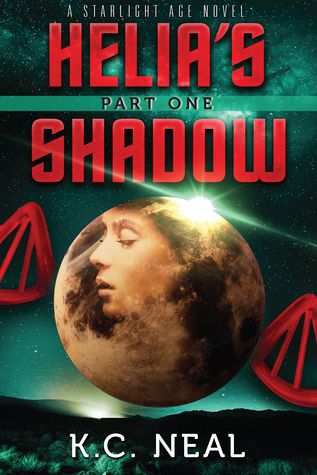 Helia's Shadow: Part One by K.C. Neal
(The Starlight Age #1)
Publication date: November 23rd 2014
Genres: Science Fiction, Young Adult


When the aliens arrived, they were hailed as the saviors of a dying Earth and dwindling human race. But the aliens didn't come to help. Now, one human girl's ingenious invention and one alien boy's awakened heart are humanity's last hope…
Nineteen years ago, aliens arrived on a barely habitable Earth with advanced technology and the promise of ensuring human survival in exchange for a place to settle. They were hailed as the saviors of humans and Earth.
Today, 16-year-old Helia wants two things in life: to step out of her over-protective mother's shadow and become an engineer, and to stop hiding her relationship with alien boy Kalo. But the world definitely isn't ready for a human-alien romance. And worse, the human-alien partnership is crumbling. Humans are arrested without explanation. Some of them are never seen again.
When the alien leader imprisons her mother on a false charge, Helia discovers the aliens never intended to help humans at all. Now, she must join forces with alien rebels. If she succeeds, humans have a chance at survival and she has a chance at love. If she fails, the dwindling human race dies out in slavery.


I received an ARC copy of this book in exchange for an honest review. Helia's Shadow has strong characters and a well written storyline. You'll meet Helia who is smart and brave and the heroine of the story, Kalo, the forbidden alien who is Helia's love interest and many other characters that will quickly pull you in for an extraordinary ride. Years ago, the planet as we know it changed and the Talans arrived making promises which had humanity indebted to them, but, are they really what they claim to be or is there something sinister behind their arrival? You've got to read it to find out.
K.C. Neal has done a superb job and every detail is perfect from the barren landscape to the good looking life forms. You'll find yourself pulled into the vivid imagery and the storyline so you won't want to put it down. This book does not disappoint.

Book Lover's Prize Pack including signed paperbacks, book swag, tea, stickers, EOS lip balm, and other surprise goodies! (Prize pack is for United States winner only, cannot be shipped internationally; if the winner is outside the United States, he/she will get to choose books from BookDepository.com up to US$25 total value, must be an address Book Depository will ship to for free.)

In previous iterations of my professional life, I worked as a bench chemist, a lab equipment tester, a biotech researcher, and a medical writer. Strangely, this sequence has not led to my dream job: drummer in a rock band. But my current gig is pretty sweet.
I love colored pens and sticky notes, sunsets and sunrises, digging my fingers into the dirt and nurturing the things that grow in it, and learning anything and everything. I'm a scientist who studies astrology, a go-with-the-flow Type A, and an impatient practitioner of daily meditation. A big bag of contradictions, just like everyone else.
Author Links
Website ♦ Goodreads ♦ Facebook ♦ Twitter
Hosted by