Royal Date by Sariah Wilson
Publication date: March 3, 2015
Genres: New Adult, Romance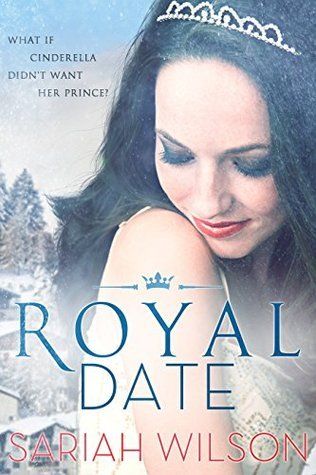 This Cinderella didn't plan on a prince . . .
Kat MacTaggart is a girl who has a plan for everything—including her holiday ski trip to Monterra with her best friend. Everything is going according to plan until she finds herself careening out of control down a mountainside and being rescued by a guy who looks like Superman's hotter Italian cousin.
HRH Prince Nico is intrigued by the woman he saved on the slopes and her refusal to date him. He offers Kat a deal—let him show her his country and he'll pay her to write articles that will help Monterra's tourism industry. Kat agrees, but given her past and lingering distrust of men, she has one condition—absolutely no kissing.
Thanks to the claims of a jealous British noblewoman and the schemes of a meddling paparazzo, Kat's rule doesn't seem to be a problem at first. But the more Kat gets to know Nico and the people around him, the harder it is to remember her keep-your-distance plan. Should she stick to it or risk everything for a chance at happily ever after?


What was he doing with his fingers? Everywhere he touched me he left little pools of flame behind.

He was unfairly using his masculine wiles against me, and I was stupidly giving in. I opened my eyes to see him studying me as he slowly ran his knuckles against my cheek. "So is that a yes?"

"It will be a yes. I will pretend to date you, go where you want me to, write what you want me to write. On one condition."

He waited for me to continue.
"No more kissing."

His hands stilled. "Ma che?" I guessed that was Italian for "What the frak did you just say?"
"If you think about it, you want me to stay objective when I write the story, don't you? So we should take kissing off the table, right?" I didn't know if I was trying to convince him or me.

"So you're worried that my kisses will sway you and harm your objectivity?" He paused, as if considering. "That's probably true." He went back to lightly caressing me, and I worried that I might have to start planning my own funeral because I was dying.

But I couldn't let on just how much he affected me. "Full of yourself much?"
He had his face close to mine, and I could feel his smile, hear it in his voice. He moved to put his lips right above mine. "You and I both know that I could prove as much right now."
Of all the things I expected him to do and say, the next thing to come out of his mouth was not one of them. "I can do that. If you don't want me to kiss you, I won't. I will wait until you ask me to."

Usually I would have been like, so not going to happen, but in this case . . . well, I hoped I was strong enough to stick to my guns.

Nico ran his fingers through my hair, and I unconsciously tilted my head to lean into his open hand. "Am I allowed to still touch you? I'm not sure I can promise not to touch you."
"Uh . . ." I meant to say something. I did. He completely disrupted all of my brain waves.

"Because it would seem you like touching me as well." I opened my eyes and looked down. I had both of my hands on his bare chest. When had that happened? I didn't even remember doing it. My hands obviously had minds of their own. I clenched them shut and put them back in my lap.

"Touching is okay, I guess," I said in that same breathy voice that I only had around him, and now felt like my new permanent one. To be fair, and putting aside the fact that I enjoyed it, Monterrans had repeatedly proven themselves to be an affectionate and kind of handsy people. I couldn't exactly say no to him for something that was cultural, could I?

Yes, even in my foggy haze I was aware of my pathetic attempts to justify and rationalize.
"Good. Although I don't know if it's very fair to give a man a taste of heaven and tell him he can't have it again."

My heart barreled against my chest as he did that thing where he ran his thumb gently over my lips, across my jawline, back to my lips. I sort of loved that. I would probably give up my firstborn child if we could just stay in this spot all night doing that.

I was going to lose every last bit of resolve I had.

NOTE that the book is currently 50% off with the discount code ScoutOne!

Sariah Wilson has never jumped out of an airplane, never climbed Mt. Everest, and is not a former CIA operative. She has, however, been madly, passionately in love with her soulmate and is a fervent believer in happily ever afters--which is why she writes romance. She has published five happily ever after stories. She grew up in southern California, graduated from Brigham Young University (go Cougars!) with a semi-useless degree in history, and is the oldest of nine (yes, nine) children. She currently lives with the aforementioned soulmate and their four children in Utah, along with three tiger barb fish, a cat named Tiger, and a recently departed hamster that is buried in the backyard (and has nothing at all to do with tigers).

Hosted By