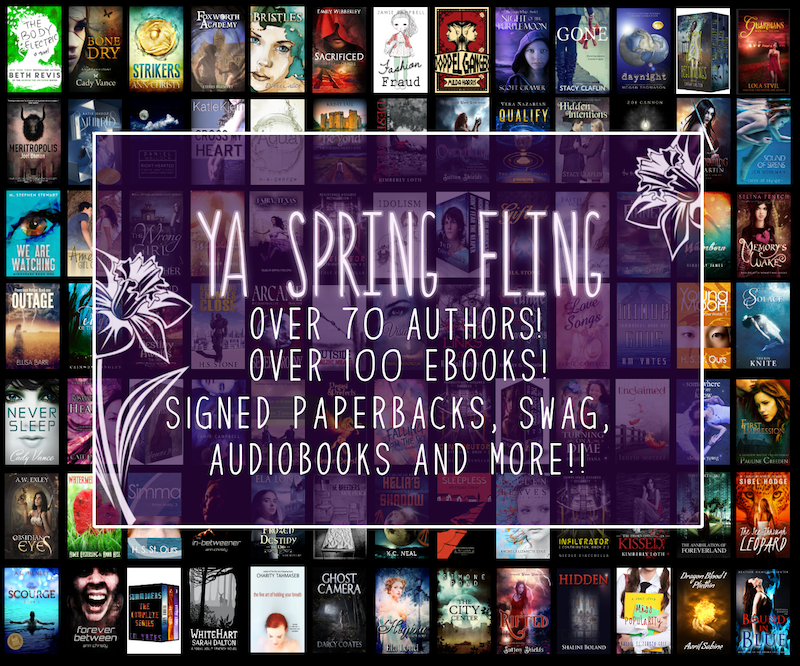 There are over 70 authors and 100 books in the giveaway, and they range from YA contemporary to YA sci-fi with everything in between. A few of the authors included: Beth Revis, CJ Archer, Megan Thomason, Katie French, Ann Christy, Lola Stvil, Sutton Shields.
Q & A with the organiser – Sarah Dalton
How can readers enter the YA Spring Fling giveaway?
Head over to my website Sarahdaltonbooks.com and find the page for the YA Spring Fling (handy hint, it's HERE). Once you're there you can browse through the books on offer, or check out more information about the participating authors.
You should see plenty of links prompting you to enter the giveaway. Simply fill out the Google document telling us which books you'd like to win, the format you prefer, and whether you would also like to win paperbacks and swag. It's that simple. Pick the books you want and sign off.
How will I know I've won?
There are so many books on offer that I'd be surprised if you didn't win something! So you will be hearing from us. ☺
After April 3rd, I will collate all the entries and pass them on to the participating authors. They will then choose the winners at random and Email the winners to let them know the good news.
Will my Email or personal details be used outside the giveaway?
Absolutely not. We're all against spam and promise not to use your Email for anything other than contacting you as a winner. If you joined up to the YA Spring Fling mailing list you will receive one Email telling you the giveaway is open, and another warning you it is about to close. That's it!
Is the giveaway open internationally?
Yes! But there are some paperbacks on offer that are region specific. Not all of our authors are sending paperbacks and swag internationally, purely because it costs us so much money and we ain't made of it. ;)
We will ask for your country of residence in the Google document. That's so we can work out the winners for region specific paperbacks more easily. Everything else is open internationally.
I have a question, who can I contact?
Me! Send me a message on Facebook. My Email might be clogged by answering author queries, so Facebook might be the easiest method.
Who can I tell about the giveaway? And what can I do to help spread the word?
You can tell everyone and anyone who might like YA books. If you'd like to spread the word it would be awesome if you could follow or like some of the authors and share their posts about the giveaway. You can find a full list of the participating authors and their social media links here.
GOOD LUCK EVERYONE! MAY YOU WIN MANY BOOKS!
Click the banner to go to the official giveaway page which has all the details of the books included in this giveaway.
Or click HERE to enter.
Hosted By
HTML Comment Box is loading comments...