Scientists working to find a cure for a flesh eating bacteria inadvertently create a virus that kills anyone infected with the virus. The U.S. government, seeing a possible bio-terrorist threat in the new virus, attempts to reverse engineer a cure. The cure is worse than the disease. The infected, after showing signs of improvement, die only to rise again as flesh eating zombies. After escaping from the test facility, the world is faced with a zombie apocalypse.

This review covers Books 1-4 of Dead Life.
I stumbled upon the first book on Facebook in a group that promotes free books and as soon as I read that it was about Zombies and that it occurs in my home state, Missouri, I jumped all over it. Two chapters in and I quickly went back on Amazon and via Kindle Unlimited I downloaded the other three because the story is simply just that good! From the very beginning the author pulls you in with gruesome, gory and violent scenes. Every detail makes you flinch in anticipation as you don't know what is coming.
Yes, we have our average flesh eating zombies but, some are different in their own special way. I don't share spoilers so I can't tell you what differences there are so you'll definetely have to read it to see what I am talking about. What I can tell you is that there is never a dull moment as you read through the Dead Life books. These books are fast paced and full of excitement and from the beginning we learn how this virus becomes to be and I love the author's take on it as it shows how vivid his imagination can be.
The story and characters are strong, likeable and well developed so it always keeps the reader wanting to know what's going to happen next. I am looking forward to the next book. Everyone who loves this genre should read these books and keep an eye on this author!!
(Clicking on each book cover will take you to Amazon)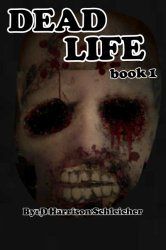 Steve, a grocery store clerk in St. Charles Missouri, learns of the impending disaster from his son, Tim. With a group of survivors, Steve begins preparations to leave the city. Their goal is to escape from the hordes of zombies and find a defensible place to live the dead life.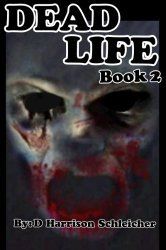 Book 2 brings back the unforgettable characters of Steve, Gina, Al and introduces Cindy along with some others who add to the tense yet sometimes humorous scenarios of their journey.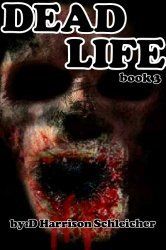 Steve and Al continue their suspenseful adventures in a ravaged country. With Gina, Cindy, and Rick, they fight their way across middle America trying to get to Boonville Missouri where they hope to find Gina's father. Having lost contact with him the first day of the outbreak, they hope to find him alive. Steve and his group encounter various other colorful people trying to survive the apocalypse in their own worlds. We also delve into Tim's world. As the son of Steve, Tim is a lieutenant in the United States Army. On assignment to the NSA, he is the one responsible for warning Steve of the impending zombie apocalypse setting this story in motion. In this installment of the Dead Life, we'll meet Tim and follow him and another group of survivors as they witness the start of the Dead Life.
The series continues. Our two groups of survivors having established contact with each other make their separate ways toward Fort Leonard Wood Missouri. Along he way they struggle to survive attacks from the undead and human antagonists. They find the threats from other survivors to be as bad if not worse than the zombie hordes.

Writing is something I've always wanted to do. Thanks to self publishing I've finally had the chance to make this dream come to reality. Gina, my wife-editor-typist has been my inspiration through all of this. Without her support I never would have gotten the first installment of my book series Dead Life out. Thanks baby. I have six children, three of which are still at home. My youngest son is the model for the cover of book one and between him and my second youngest daughter they share the responsibility of setting up and helping me monitor my Facebook page. My youngest daughter designed the cover of book one. Thanks guys.
David Schleicher, mild mannered night manager at a major metropolitan grocery store trying desperately to be writer man. Yes writer man. Able to craft stories with his bare hands. Anyway, I digress. I hope you like my books. Yes books, there will be more. I will try my best to have an installment of Dead Life out every two weeks. If not be patient, be understanding. This writing thing is a slow process but I shall overcome distraction, writers block, and fatigue (mostly distraction). Did I tell you how hot my wife is?