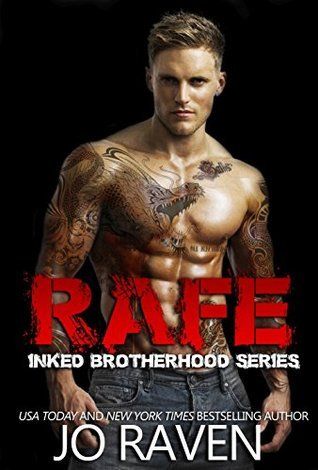 Rafe by Jo Raven
(Inked Brotherhood #5)
Publication date: April 17th 2015
Genres: New Adult, Romance

His name is Rafaele Vestri, Rafe to his friends.
He's tall, strong, handsome. Distant. He often comes to the café where I work, but we don't talk much. He looks at me, though. Stares at me, his gaze heated, and I can't help but stare back. I want him, I won't deny it. I've never seen anyone that beautiful, anyone that powerful, in my life.
But he's growing more withdrawn by the day. Something's up, and he won't tell. I know about his past – the murder of his family when he was fifteen. I can imagine what it must have cost him. So much violence contained in that strong body, waiting to be unleashed. What is he seeking? What is he training so hard for? Why is looking at me like he's dying to touch me, but won't dare?
Even as I try to stop thinking about him, get interested in other boys, I realize I can't. I'm caught, body and soul, just like that. And I tell myself, Megan, girl… What have you gotten yourself into this time?
Standalone novel. No cliffhanger.
*Warning: this book contains graphic language, sex, and violence. Mature readers only. Not intended for young readers.*



©Jo Raven
In a daze, I walk toward the back of the coffee shop, my hand in Rafe's, pulling him along. He's offering no resistance, his grip so tight around my fingers it hurts, but I don't care. It feels good, feels right.
His presence, like always, zips down my nerve endings like electricity, raising goosebumps on my skin, making my breasts feel heavy and tight. Lighting an ache inside me, creating a void I don't know how to fill.
I try to ignore it, and focus instead on placing one foot in front of the other. When I saw him standing there, caught between rage, fear, and a sadness so deep it cut like a blade, I didn't know how to help.
Not sure how one person can hold so much inside and not come apart. I'd give anything to take that darkness from his gaze, and isn't that the weirdest thing? For someone I have barely exchanged two words with in the past months?
But I know what it is. It's that pain, that anger and fear I glimpse behind the façade that keep me coming back.
And the façade sure is beautiful. As soon as we reach the back wall and I turn to face him, I'm struck speechless again. That square jaw, those pretty long-lashed golden eyes, that soft mouth… Throw in the tall, strong body, and I'm just about drooling with lust.
Dammit, Megan. Stop. I glance back at the crowded tables, then down at my long apron. Stop it.
I'm doing by best not to look at him, but it's a lost battle. I'm painfully aware of the heat of his body, so close to mine. Of how good his strong hand feels wrapped around mine. He's all I can think of.
I tug on it half-heartedly, not really wanting to let go.
He tugs back, pulling me to him. I gasp in shock when our bodies collide, tilting me off balance. Before I fall, his other arm comes around my back, shoring me up. Keeping me pressed to his muscled thighs and chest, my breasts mashed against him.
Oh dear God.
He's looking down at me, his gaze hot as flames, and his mouth is so close my own goes dry. I lick my lips, my free hand sliding up his chest to rest between his defined pecs, and his head bends lower. I feel his heart stutter under my palm.
In silence, he walks me backward until my back hits the wall. He lifts our entwined hands and shoves them against the fading wallpaper. His other arm is still around me, keeping our bodies flush, so that I feel every excited inch of him, the hard, thick rod of his erection digging into my stomach through our layers of clothes.
Another gasp escapes me, and I feel myself growing hot and wet between my legs. A throb starts low in my belly, and I try to lift myself on my toes, to press more of my body to his, my hand straining where it's held to the wall in a grip of steel.
His lashes shadow his eyes, and a shudder rocks him. His lips part. His breath fans over my skin, a faint scent of mint and smoke.
"Megan…" he whispers.
I still, my hand on his muscled chest, the other clenching uselessly in his hold. Caught between the wall and his hard body, caught in his burning gaze, I don't know what to do.


New York Times and USA Today Best Selling Author Jo Raven loves sexy bad boys and strong-willed heroines. She writes steamy New Adult contemporary romance and divides her time between writing and reading. When not cooking up plots, she putters in her cluttered kitchen and dreams of traveling to India and Japan.

Hosted by