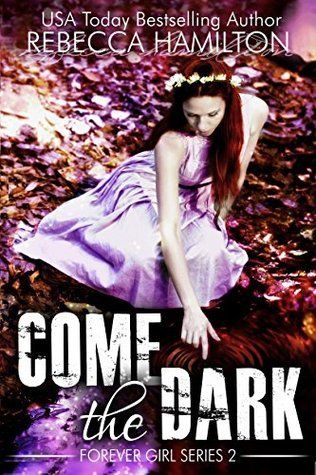 Come, the Dark by Rebecca Hamilton
(Forever Girl #2)
Publication date: January 6th 2015
Genres: Fantasy, Paranormal, Young Adult
TRIGGER WARNING: This book deals with the sensitive subject of sexual abuse.
Rose desperately wants to escape the abuse of the father who impregnated her and the dark spirits that haunt her life. Being thrust from Georgia 1961 into the era of Salem's infamous witch trials isn't what she had in mind, and now her daughter is left hopelessly out of reach.
The only way to return to her daughter is by facing certain death to banish the dark spirits that plague Salem. If she doesn't eliminate these dark spirits in time, they will destroy civilization and trap her in this strange new place, ages away from her daughter.
Even if she can complete the task in time to return home to save her daughter, there's still one problem: she's falling in love with a man who can't return with her. Achieving her goals will force her to choose between the only man who has never betrayed her and a daughter she can't quite remember but will never forget.
A heart-wrenching tale of a mother's love for her daughter, this romantic paranormal fantasy underlines the depravity of both historical and modern society while capturing the essence of sacrifice and devotion.



I received a free copy of this book in exchange for an honest review when I signed up to host the book tour. I made no guarantee of a favorable review.
This is the first book I've read from this author and I loved it.
Young Rose suffers at the hands of her father until the day she disappears...back to the time of the Salem witch trials, where she learns unexpected things about herself. The capabilities of this author's story telling are outstanding and every page brought surprising and exciting jaw dropping events. Well written story line and strong characters will have you sitting on the edge of your seat as the battle between good and evil unfolds.

Rebecca Hamilton is a USA Today Bestselling Paranormal Fantasy author who also dabbles in Horror and Literary Fiction. She lives in Florida with her husband and four kids. She enjoys dancing with her kids to television show theme songs and would love the beach if it weren't for the sand. Having a child diagnosed with autism has inspired her to illuminate the world through the eyes of characters who see things differently. She is represented by Rossano Trentin of TZLA and has been published internationally, in three languages.

To learn more about Autism Spectrum Disorder, please visit the website below.
Hosted by