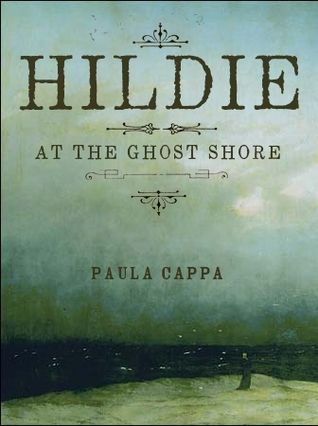 Hildie At The Ghost Shore
by Paula Cappa
Published August 23rd 2013 by Smashwords
Genres: Supernatural, Fantasy, Young Adult


We are in Old Belgium. Hildie the lace maker, mistress of Runecraft, knows the secret spells of the runes from the wind-god Odin. When a mysterious old sailor visits her attic workroom, he requests a reading. Hildie agrees. During the casting of the runes, Hildie conjures the Ship of the Dead, Loki the trickster, and flame-eyed ravens. Who will survive this adventure in a land beyond the ghost shore?
Hildie at the Ghost Shore is a quiet little mystery with a dash of Norse mythology evoking the magic of the Runes. This story was originally published at Fiction365.
Also included in this ebook is the flash fiction Abasteron House, a short-short story that is the prequel to the novel Night Sea Journey, A Tale of the Supernatural (Eric Hoffer Book Award Winner, 2015).


I was gifted a copy of this short story by the author in exchange for an honest review. I made no guarantee of a favorable review.
This short story was a deeply, powerful and meaningful story of the human heart and the capacity of the love it holds told via the use of Norse mythology. It was well written and I certainly did not see what was coming. I love a story that makes me cry upon revealing its most intimate secret. This is truly a must read.

Paula Cappa is an award-winning novelist and short story author. The Dazzling Darkness received the Gothic Readers Book Club Award for Outstanding Fiction and achieved Readers' Favorite Bronze Medal Award for supernatural fiction. She is the author of Night Sea Journey, A Tale of the Supernatural (Eric Hoffer Book Award Winner, 2015). Both novels are published by Crispin Books. Her short fiction has appeared in Dark Gothic Resurrected Magazine, Whistling Shade Literary Journal, SmokeLong Quarterly, Sirens Call Ezine, Every Day Fiction, Fiction365, Twilight Times Ezine, and in anthologies Journals of Horror: Found Fiction, Mystery Time, and Human Writes Literary Journal. Cappa's writing career began as a freelance journalist for newspapers in New York and Connecticut. She is a freelance copy editor and writes a weekly blog, Reading Fiction, Tales of Terror.