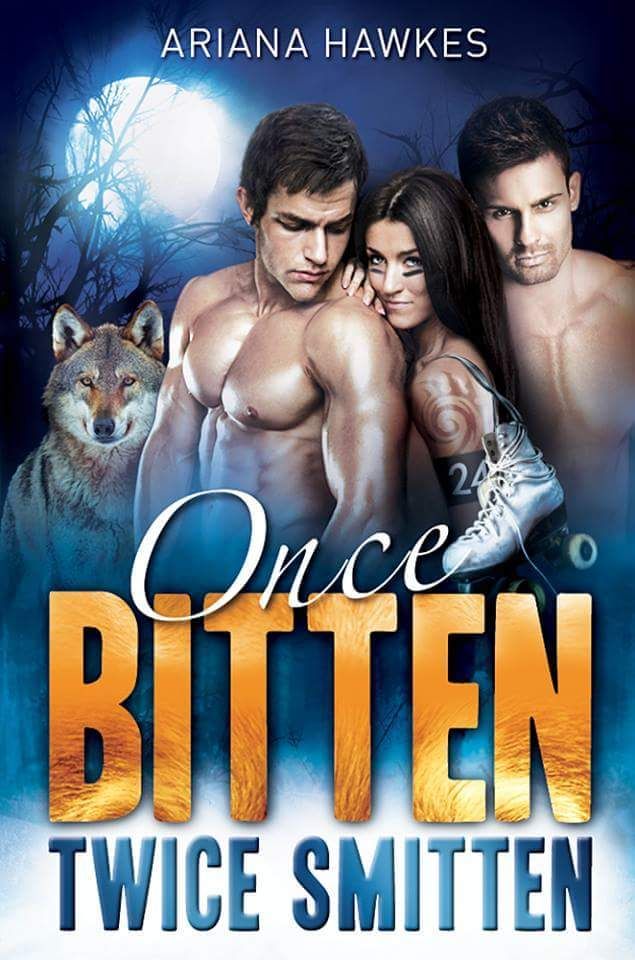 Ariana Hawkes
Publication Date: May 5, 2015
Genres: Erotica, Romance

Aspen Richardson loves playing roller derby: the fun, the exciting games and her teammates – an amazing bunch of curvy kickass girls. The only thing missing from her life is a man who will love her just the way she is. In the small town she calls home, bullies from the past remain, making her wonder if it's ever going to happen.



I received an ARC in exchange for an honest review. I made no guarantee of a favorable review.
I LOVED this story!! What's better than one future alpha wanting you? Two hot and damn sexy future alphas wanting you!!! Meet Brad, Chase and Aspen, the newest characters from author Ariana Hawkes and she has outdone herself with this all new sizzling erotic story line. Though I love Brad and Chase I feel like I get Aspen, a some what insecure woman who has dealt with cruelty because people think she's fat. She is definetely not as she is just simply "voluptuous".
This book definitely needs to be added to your MUST read list as I know you too will quickly fall in love with this steamy and fast paced story as it gets the juices flowing. I'm hoping that Ariana doesn't keep us waiting too long for the second book because I can't wait to see the packs reaction.
How did you become involved with the subject or theme of your book?
I've always loved this passage in Dracula:
"We sped onwards through the gloom, with the howling of the wolves around us, as though they were following in a moving circle.
At last there came a time when the driver went further afield than he had yet done, and during his absence the horses began to tremble worse than ever and to snort and scream with fright. I could not see any cause for it, for the howling of the wolves had ceased altogether; but just then the moon, sailing through the black clouds, appeared behind the jagged crest of a beetling, pine-clad rock, and by its light I saw around us a ring of wolves, with white teeth and lolling red tongues, with long, sinewy limbs and shaggy hair.
They were a hundred times more terrible in the grim silence which held them than even when they howled. For myself, I felt a sort of paralysis of fear."
It was written almost 120 years ago, but it still totally gives me the creeps. I did some background reading, and I discovered that, while Transylvania has a famous vampire myth, it also has a shapeshifter/werewolf myth. I thought it would be really cool if a werewolf from this ancient country came to the US, and, so Peter was created!

What is the biggest thing that people THINK they know about your subject/genre, that isn't so?
Haha! Well, someone who had clearly never read a book about werewolves before left me a review saying my book was 'silly' because werewolves aren't real. But, as the characters in Isabel and The Wolf discover, shapeshifter myths have been around as long as written records exist. So shapeshifter romance is just a continuation of a very old tradition!
What inspires you?
I'm a big nerd, and I love surfing the internet, and Wikipedia in particular, for random information. So, usually I'll find out something that interests me, and an idea for a story will spark off in my brain.
Who are some of your favorite authors that you feel were influential in your work? What impact have they had on your writing?
PNR-wise, Kelley Armstrong is the writer that introduced me to the genre. I'm also a big fan of Milly Taiden, Viola Rivard, Catherine Vale, Michelle Fox, and so many others. Erotica-wise, Anais Nin is a perennial favorite, and her writing taught me to make erotica as sensual as possible.
What makes your book stand out from the crowd?
According to some lovely recent reviews I've had, it's not 'just another shifter romance'. I've tried to bring the characters and settings to life. I've also put lots of suspense into the story, and people have said it's 'full of twists and turns', so hopefully that has been successful! I also wanted to make the sex as real as possible. With Isabel and The Wolf, I tried to depict the experience of a normal woman having sex with a werewolf who'd never lived among humans before and was really animalistic, while still making it sexy.

What do you like to read in your free time?
Apart from PNR, I love reading thrillers. I'm all about the suspense, and the dark, damaged main characters!
What projects are you working on at the present?
I'm just finishing a standalone book about a curvy roller derby girl who gets hunted down by two sexy werewolves. One of them is her fated mate, because he bit her as a child, but none of them know which one it was. It's a comedy romance, with some suspense and a sweet HEA.
What do your plans for future projects include?
I've planned a whole collection of loosely-connected standalones. I absolutely loved writing the Isabel serial, but I'm looking forward to writing some shorter romances now!
What question do you wish that someone would ask about your book, but nobody has?
In Part Four, Josie tells Isabel an ancient Romanian proverb. Isabel asks what it means, and Josie tells her she'll find out in time. But Isabel never does find out. I've been asked plenty of questions about if there are plans for a second season, and which characters' stories I'd tell, but, so far, no-one has asked me about this!

Ariana loves to write spicy stories with complex characters, a good dose of suspense, and plenty of laughs.
She graduated in English and Latin lit. Since then, she's been writing full time, for both work and pleasure. When she's not doing that, she loves reading literary fiction, fantasy, romance and erotica, and snuggling with her man and their two huskies.