Portal (Portal Chronicles #1)
by Imogen Rose
Release Date: 01/23/10
Narrated by: Sue Leib Bernstein, Lauren Tate
Length: 9 hrs and 38 mins


Come Find Me Two Years Ago...
Six words that propel ice-hockey-playing tomboy, Arizona, into an alternate dimension.
She suddenly finds herself living the life of a glamorous cheerleader. She finds herself transported from her happy life with her dad to living with the mother she hates.
Everyone knows her as Arizona Darley, but she isn't. She is Arizona Stevens.
As she struggles to find answers she is certain of two things -- that her mother is somehow responsible, and that she wants to go back home to her real life.
That's until she meets Kellan...


Arizona's Room

Perfect! Well, almost. The sign was pink, my least favorite color. This was where I hoped I was in a dream, rather than a nightmare. I was really hoping my room wouldn't turn out to be a cave full of tarantulas. I gingerly pushed open the door and went inside. Everything looked normal. No giant insects, monsters, or murderous beasts. It was, in fact, almost exactly like my room at home in Princeton, which would be weird if this wasn't a dream. My bed sat in the exact same spot as at home with my Edward Cullen poster—hey, maybe this would turn into a romantic vampire nightmare!—above it. On closer inspection, I did spot some differences from my real room. For one thing, a pink monstrosity had replaced my New Jersey Devils bedspread. Ugh! However, a huge flat-screen TV, which covered part of one wall, made up for it. Cool!

I noticed two doors on the far wall. Could those be the nightmare doors that had zombies on the other side? I slowly walked to the first door, opened it, and peered inside. It was pitch black. Hoping not to lose my arm to a beast, I felt around for a light switch. I found the knob and turned it.

Wow! My own bathroom! I was beginning to like this dream. Though small, the bathroom had a shower, sink, and toilet. I opened the cabinet under the sink and found towels and extra toothpaste.

Feeling more confident, I walked over to the second door and opened it. I was overwhelmed. Now, I knew I was in a dream—a walk-in closet. It was huge, at least three times the size of the bathroom. All of the clothes hung neatly above some drawers and even a few shoe stands. But, I didn't recognize the clothes. I would have to inspect them later. First a shower—I stunk.

I took off my muddy jeans and hoodie, threw them into the laundry basket, and stepped into the hot spray of water. It felt so good, soothing my aching back. That ride must have been long; I was stiff. I shampooed my hair, then wrapped myself in the large, pink towel that hung on the railing outside the cubicle before stepping back into my room. After drying off, I located a comb on a very prissy-looking dressing table and sat down on the bed to untangle my hair.

I absentmindedly relived my last hockey goal. It had been my finest moment on the ice this season. As I reminisced, I idly glanced into the mirror at the far end of the room and was jolted back to the present. Who was that staring back at me? I slowly walked over to the mirror and gaped into it. My hand wandered up to my hair. I yanked at it. Ouch! It was attached to my head, but it couldn't be mine. It was blond… platinum blond! I looked ridiculous, like an awful Barbie doll. I pulled it again, harder this time, willing myself to wake up, but winced as I pulled out a small clump. I stared at the hair in my hand, feeling the strands with my fingers in disbelief. I felt a sense of dread, and then lost control. I screamed.

"Mom!"

Still wrapped in my towel, I ran out of my room and stumbled down the stairs. Halfway down, I stopped. I held my breath. I wanted to shout and scream, but I held it all in. The last thing I wanted was another trip to the psych unit.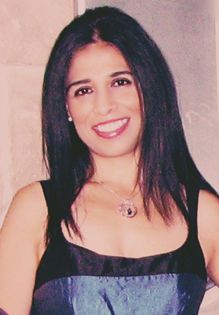 Imogen Rose is the author of the bestselling series, Portal Chronicles, which has attained cult status within indie literature and become a favorite among teens and adults alike. An immunologist by profession, Dr. Rose published her first work of fiction in 2010. She now writes full time and is currently working on her second teen series, the Bonfire Chronicles. Imogen was born in Sweden and has lived in several places, counting London among her favorites. She moved to New Jersey in 2001. A self-confessed Hermès addict, Imogen freely admits to being obsessed with Kurt Cobain. She enjoys shopping, traveling, watching movies, and hanging out with her family, friends, and Chihuahua.

Follow The Tour
Hosted By