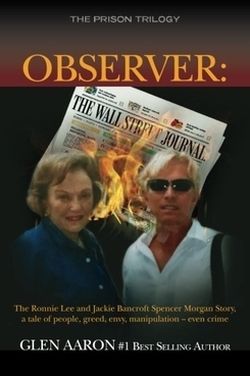 Observer: The Ronnie Lee and Jackie Bancroft Spencer Morgan Story
(The Prison Trilogy)
by Glen Aaron
Book genre: Nonfiction, Intrigue, Crime
Publisher: Glen Aaron using Create Space
Release date: April 1

When Jackie Bancroft's husband died in 1952, he left her an heiress to the income and value of The Wall Street Journal and one of the wealthier women in America. Almost 50 years later, Jackie would mary Ronnie Lee Morgan, a 50 – year old gay interior decorator. Morgan was one of many clients in the active law practice of author Glen Aaron. This unusual marriage lasted until Jackie's mysterious death five years later. Throughout that period, Aaron became entwined in the personal lives and demands of the couple, along with handling many of their legal affairs. The huge money and property distributions made by Jackie to her husband, designed and handled by Aaron, resulted in a two – year federal prison sentence for Aaron.
The first book in the Prison Trilogy is this story.


Through the course of four years, Ron bought several million – dollar Puerto Vallarta properties, some for rental, some with an eye toward resale; all in the name of the trust I had set up for him. This was causing a problem. When Ron initially explained how he wanted the trust to work, or, at least, how he envisioned the goal, it was to be an income – generating entity protected from domestic creditors, the IRS, and Jackie's children. Therefore, I envisioned never conducting business in the United States. I had never filed for a tax identification number, nor had the trust filed an income tax return.

However, throughout the first few years of the trust, Ron imported large amounts of artworks and furnishings from other countries and warehoused them in El Paso. He also took unreported, large cash distributions into the United States. This was not how to protect oneself within a trust. No matter how I might admonish him, I would find, after the fact, Ron paid no attention and threw caution to the winds. I could never tell, through many aspects of Ron's life, whether he felt invincible or whether he just couldn't perceive risk/reward exposure.

In following the goal of creating an offshore cash-cow for Ron's future, I had established a corporation and office in Belize that headquartered an online casino. Acquiring the software through professional contacts in Vegas and setting up accounting and payment controls took about a year. Belize was ideal for an online casino because broadband T-1 connections were plentiful and the domain name address would be Belize. Additionally, the major Caribbean undersea fiber line connecting instantaneously to the entire world was within stone's throw of where I had set up the online casino. In the second year, the casino was cash-flowing twenty – five – thousand dollars per month with hardly any overhead.

To diversify the activities and income of the trust, I retained a CPA and Hong Kong attorneys to establish a Hong Kong trade Corporation with an office in Shenzhen, China. The trade companies served multiple full purposes because of the myriad opportunities in China. Its primary purpose was to protect importations of artworks, sculptures, and furnishings from all the countries Ron had haphazardly imported into the United States.… Although Ron was as tight – lip about those details as he was about most other details, it was pretty clear he was stockpiling a high-end inventory for his post – Jackie future.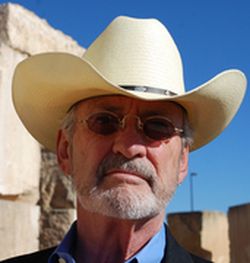 Glen writes both fiction and nonfiction from his forty-year career and experience as a trial lawyer and consultant in international business and banking.
His nonfiction work as the observer in The Prison Trilogy tells the tales in chronological order of how he came to be a lawyer for a Wall Street Journal heiress and her gay husband and how that representation landed him in federal prison. That is the first in The Trilogy. The second book tells the story of his cell mate, Colonel George Trofimoff, serving life for spying for the KGB, and the final book of The Trilogy describes the prisoners, Glen's experiences and takes a hard look at the American criminal justice system.

Amazon Author Page ≈ Smashwords Author Page
Follow The Tour
Hosted by