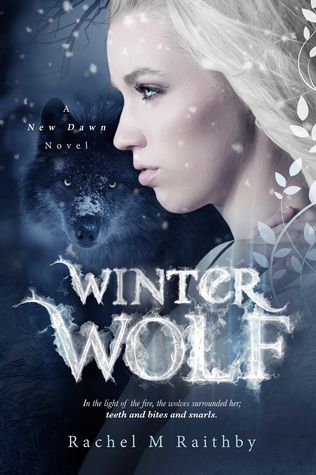 Winter Wolf (A New Dawn Novel Book 1)
by Rachel M Raithby
Published: November 29th 2014
Genres: Young Adult, Paranormal


Katalina Winter has been living for eighteen years with a secret hidden inside of her, a secret not even she knew. With this secret comes consequences, expectations, ones she's not willing to fulfill; she'll give her heart to whomever she wishes, even if he is a Dark Shadow wolf…
Katalina must navigate her way through a world at war, where the alpha is law and only the strong survive. True love is powerful, but some people will go to any lengths to destroy it.


I was completely blown away by this book.
Katalina is celebrating her birthday with her parents when the unthinkable happens and her life as she has known it quickly changes when she learns that she is a shifter and that there are others who want her dead. Cage believes that Katalina is his future mate but Bass complicates things as he is from a different pack.
Ms. Raithby's writing pulls you in from the very beginning with a well written story line and well developed, strong characters. You will find yourself turning each page wanting to see what happens next. I look forward with much anticipation to the second book.

AUTHOR OF THE BEST SELLING PARANORMAL, The Deadwood Hunter Series, and BEST SELLING TEEN/PARANORMAL Novel, Winter Wolf.
Rachel M Raithby embarked on her writing career in 2013 and hasn't looked back. She's a Brit living in a quiet town in Queensland, Australia, having left the UK in 2008. She's draws her inspiration from the many places she has lived and traveled, and also from her love of the paranormal and thriller movies.
Rachel can often be found hiding out with a good book, or tapping away, creating more fast, paced, thrilling stories, were love always conquers all.