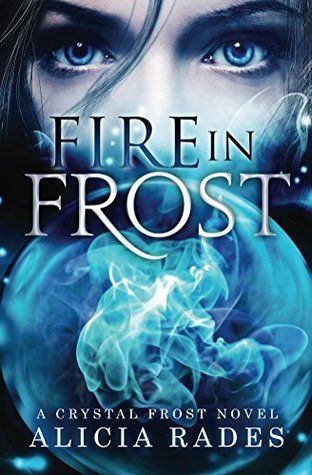 Fire in Frost by Alicia Rades
Publication date: March 13th 2015
Genres: Paranormal, Young Adult


Crystal Frost has spent her whole life believing she's ordinary, and her mother has long held the secret of her heritage. When Crystal begins seeing the ghost of a dead classmate, her life spirals out of control. She's faced with the threat that everyone will find out she's a freak, as if the struggle to figure out her new-found abilities wasn't enough pressure. Crystal has to find some way to save the people who have come to her for help all while trying to keep her abilities a secret. Will she be able to fulfill these overwhelming demands while solving the mystery that is the ghost of Olivia Owen?


I received a free copy of this book from Xpresso Book Tours in exchange for a review. I did not receive any compensation nor did I guarantee a favorable review.
I must admit that during the first few chapters I was asking myself if I would ever finish reading this book. I can honestly say that continuing to read it was well worth it!! Crystal is at the cusp of womanhood and while at school one day she thinks she sees Olivia but that's hard to believe because her classmate was dead. One night she stumbles upon a secret that will alter her life and her perception of the world around her will suddenly change.
With the help of her mother and her two bestfriends, Emma and Derek, she will embark on a paranormal journey that will bring many revelations. This is the first book I've read by this author and I am looking forward to reading more of her books as she made a believer of her talent out of me.

Alicia Rades has always had a passion for writing and wrote her first poem when she was 8. Although most of her writing continued as poetry and eventually as song writing, she wrote a few short stories along the way. In 2010, Alicia began freelance writing, creating blog posts and other online content. Today, she is a freelance writer, blogger, and editor who lives in Wisconsin with her husband. When inspiration strikes, she's also an author who loves exploring YA paranormal ideas.