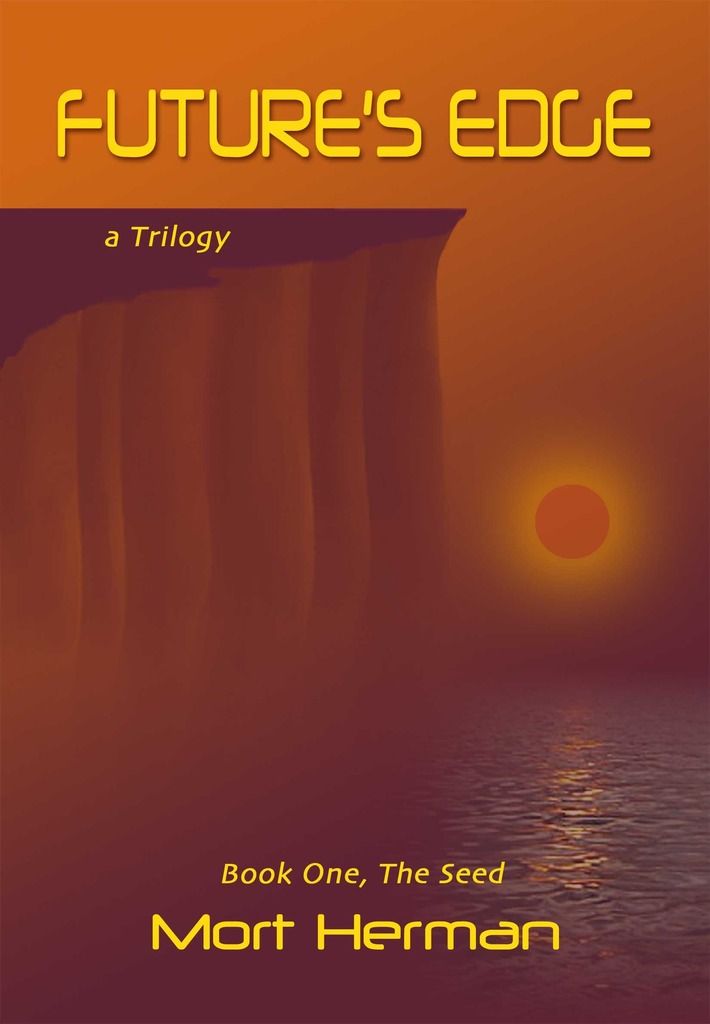 Future's Edge
by Mort Herman
Book Genre: Science Fiction / Fantasy
Publisher: Amazon
Release Date: September 25, 2014

Most people do not carry the fate of the world on their shoulders. Sam Greenhut does.
By the year 2230, the world is no longer dependent on fossil fuels. All power is harnessed directly from the Earth's core. A clever integration of neural technology and wireless energy gives rise to the Global Network (GNET), revolutionizing society. Diverse industries operate efficiently under the umbrella of a neurally connected world economy, powered by an unlimited geothermal fuel supply controlled not by Presidents, Sheikhs nor Monarchs, but by a Corporate Federation run by seven individuals.
This is the state of the world when the Corporate Federation charges Sam Greenhut with ensuring GNET's unquestioned reliability and integrity.
Sam sees a world whose population is totally dependent on GNET, as if the previously admired trait of self-reliance was weaned from the gene pool. Inevitably, the insatiable demand for energy prompts a reckless decision by Corporate Federation board members to expand the geothermal energy lattices. Despite Sam's protest, the choice to exceed the cautionary "Greenhut Limits" precipitate a string of earthquakes that destroy GNET and plunges the planet into the chaos known as "The Upheaval."
What happens next fundamentally alters the destiny of the planet and catapults Sam into the center of The Seed – book one in my science fiction trilogy, Future's Edge.


With the village stabilized and work preparations for the upcoming season proceeding smoothly, it was finally time for Kappi and Elizabeth to depart – a little later than usual, but still in time to be comfortably cradled between winter and spring. They left Tyber in the capable hands of the core group of people who had been with Kappi since the beginning of their enterprise. As agreed, Frank stayed behind to carry out his primary job of caring for the puppies. This was to be Kappi's and Elizabeth's alone time.
Their preparations were simple and swift. They chose to take their three favorite dogs led by Jupiter, the oldest, strongest, and most even-keeled of the lot. He had the experience to tame any wild or unsafe actions of the other dogs and could administer discipline when needed. Tassi (Tassiorpok, the guide) was the youngest and she possessed the keenest of senses. When there was uncertainty concerning the weather, a sound, or what path was the safest, Tassi was the one all looked at for guidance. Lastly, there was Angus (Angusuktok, the good hunter). Angus could smell prey for several kilometers and understood by verbal command what animal Kappi and Elizabeth wanted him to seek. This proud team was considered a vital, integral part of their family.
Off they went on their adventure with their dogs carrying food, supplies, clothing, hunting weapons and tools. They were finally able to leave behind the realities of the real world. There was no need to discuss their destination. Each knew instinctively where they would go.
With Tassi in the lead, Kappi provided the verbal commands that guided them toward a special hidden river valley. In the summer months, the river would flow freely, but now it was completely iced over. Tassi understood where Kappi wanted to go, and he let Tassi guide them with little intervention.
Elizabeth and Kappi were struck by the sheer majesty of this place even though they had been there before. Their place, which they called Uyaraut (meaning "precious stone" in the Inuit language), was bounded on three sides by cliffs providing a magnificent vista of the frozen river valley as it stretched for kilometers between the Arctic Ocean on the north end and the cloud-topped mountains to the south. Their camp was about halfway down the steep slope on a relatively flat area with a deep cave at the most easterly point. Uyaraut presented a perfect view of the sunset at this time of year. The setting provided shelter from the strong winds relentlessly funneling across the treeless, snow-encapsulated tundra.
Throughout their stay, Kappi and Elizabeth hardly uttered ten words to each other. In Uyaraut, they let in the solitude, the silence, their heartbeats, their individual breaths and all that surrounded them. It was an empathic event for Kappi and Elizabeth and it bridged the barrier of mental separateness intrinsic to humans. Uyaraut acted as an amplifier…
Guest Post
WHERE DOES MY INSPIRATION COME FROM?
"The hardest thing for a writer to do is create a compelling storyline."
Starting with a compelling story is essential. Having a story that can be divided into several books, encompasses millennia is even better. Combined with an inquisitive, curious, problem-solving focus, inspiration can arise everywhere.
My story has naturally been divided into three books. The first has already been published, the second one is near completion and I have extensive notes and outlines for the conclusion. This story, which came to me in a matter of three weeks, was the culmination of years of life experiences, all neatly lying dormant until released in a burst of creativity.
"Just because I stare into space, doesn't mean I am not working." For me, this is true.
Reading, watching a movie, listening to music, taking a walk or a shower, the list goes on and on, have all provided ideas for my journal; it's a journal I always carry with me because I never know when something will inspire me. Let's just say that seemingly ordinary life events can can magically find their way into the story. The secret is having that compelling story and being ever conscience of it as I go about the daily experiences of life.
My story has naturally led me to research a variety of truly diversified topics. From ancient cultures, to future technology trends, to Arctic exploration, to and seafaring vessels of the 18th and 19th centuries, each area, like a puzzle piece, has found its way into the story. The story is the magnet that attracts these ideas, making for a richer final product.

Born and raised in Brooklyn, NY, Mort Herman has a Master's degrees in Electrical Engineering. Holder of six patents, he worked at several companies including IBM, Texas Instruments, AT&T and Lucent Technologies where his specialty was semiconductor electronics, systems design, and marketing.
Mort lives on the Jersey shore with his mate Mary Ann. When he's not writing, Mort is an avid sailor, a wood sculptor, and a charter member of the Arts Society of Keyport. In the aftermath of Hurricane Sandy, he added his technical, artistic, and project management skills to the design and implementation of three, free form concrete sculptures that replaced destroyed public art in the town of Keyport, NJ.

Hosted by