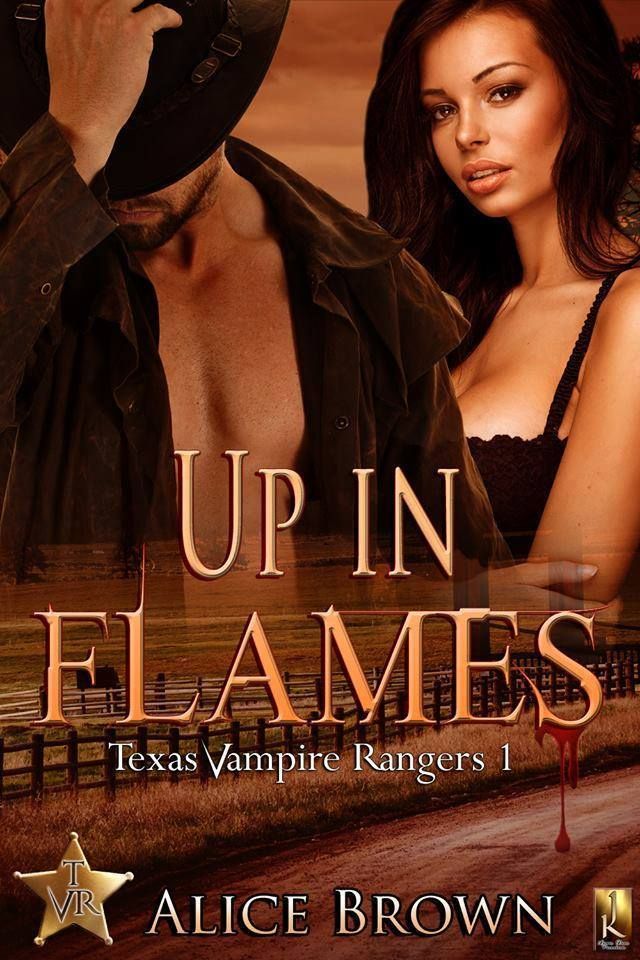 Up in Flames (Texas Vampire Rangers 1)
by Alice Brown
Published April 8th 2014 by JK Publishing (first published April 6th 2014)
Genres: Erotica, Romance, Paranormal, Vampires

The law enforcement agency of the Texas Rangers is made up almost entirely of vampires, something the public knows nothing about. Well, at least not yet, but they could soon if the Rangers don't apprehend an out-of-control rogue vampire who has been on a killing spree for two years, leaving a lengthening trail of young dead women.
Meredith was in the wrong place at the wrong time when she witnessed an attack on a young woman. The assailant wants to tie up loose ends, and has hunted her ever since. When she feels she has no options left, she turns her trust over to a man who has taken an oath to protect.
Ranger Lucas Calloway was left for dead, and looking back on his life he wouldn't have changed a thing, except for one—he would have loved to have found his mate before he left this earth. No one is more shocked than him when he not only wakes in a hospital, but finds himself looking into the eyes of his mate.
Meredith and Lucas barely have time to acknowledge they are mates before the game changes. The rogues have found her, yet again, and a leak in the Ranger unit has the potential to not only crush the tight knit family, but bury them—literally.
Join the Vampire Rangers as they use their strength, and added senses to strive to right the wrongs. With the ability to live forever, time is always on their side.
Warning: For Mature Adult Audiences. Contains language and actions some may deem offensive. MF




I received a free ebook copy in exchange for an honest review. I made no guarantee of a favorable review.
I love reading vampire books and this one is not about typical vampires.
Meet Meredith a nurse and half human/half vampire who is witness to a murder and must go into hiding from Eddie, a horrifying and sadistic vampire with no regards to human life. In comes sexy Lucas who just happens to be a Texas Vampire Ranger and wounded. Buckle down for the ride of your life as this book is full of action and sizzling, tantalizing erotic sex scenes that will leave you panting for more.
Alice Brown has a unique and erotic mind and her story telling is amazingly fabulous. Characters are sinfully delicious and the story line is strong. This series is off to a delicious start. If you enjoy paranormal romance with steamy sex then this book is for you!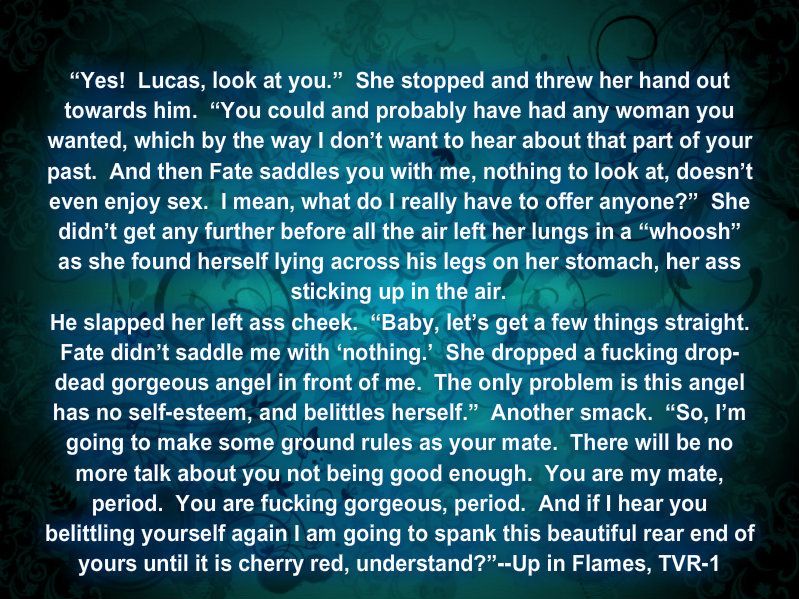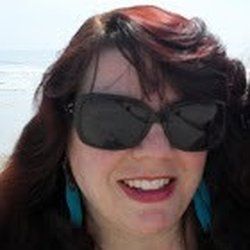 I am a retired military wife and homeschool mom. I have often joked that we started our second life when daughter graduated from school, and then less than a year later hubby retired from military. But the reality is, we did start a new life, because life as we had known it for so many years, went through a drastic change.
It was about four years ago that my daughter started urging me to write. "You have a great imagination for storytelling!" She insisted. I didn't think so, but decided to give it a try. We spent many hours sitting at our local Wendy's brainstorming the story line for my books. And while she insists I have such a great imagination, she is the one that truly has the gift for writing action scenes and has given me many fantastic ideas to incorporate in my books.
My writing has become a family affair. My husband runs my website; I would have never been able to set it up and have it running smoothly. My daughter helps me keep up with all of the social media, and is now my full time writing partner. It didn't take us very long to realize that we each specialized in different areas, and when put together, we rock! The fact that the family is involved in making my dream come true makes this journey fun. We can be found sitting around the table tossing around ideas for future stories, or how a story can be improved often.
When not writing, I love to read, and play games with the family. Friday night is family game night. I make homemade pizza and we play cards, board games, or WII tennis and bowling.

Discover more books by Alice Brown and other Authors: