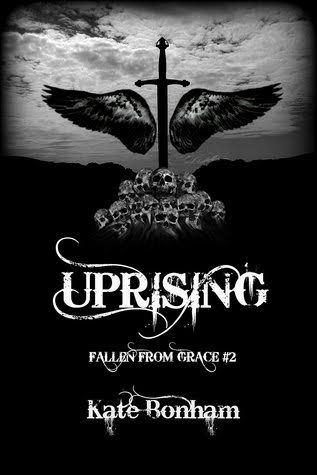 Uprising
by Kate Bonham
Release Date: June 30, 2015
Genres: Romantic Erotica, Fiction

Lee had never known anything but running and hiding from the 'mafia' looking for her Uncle Sam. The last four years had been great, however. They'd settled in Washington close to her other Uncle Ahren and his wife Beth. She was finally home.

All seems to be going well in her life. Why then is she attracted to the man stalking her? The man who claims she is some kind of angel and has great powers. Shouldn't she run to Sam and tell him everything? Instead she trusts the man named Chael.

When the war threatens to erupt on Earth, Chael has no choice. He has to tell Lee the truth about who she is, and take her to the one place where she is safe...that is...until she's stolen again. Chael must track her down and fight the war between the rogue Fallen and Fallen...will they succeed before Hell's demons are unleashed on the world?
Sacrifices must be made. Will Chael save Lee before it's too late?

Amazon ♦ Amazon UK ♦ Amazon AU ♦ B&N ♦ Kobo ♦ iBooks

Kate was born and raised in Sydney, Australia with her two parents and two brothers. She was always a dreamer even as a teen when she would dream of the moment, while in Maths class, her knight in shining armour would come and rescue her from the tedious learnings of algebra and Pythagoras' theorem. It was at that moment, she realised that if she wanted her knight to come through the door, she'd need to dream him up.

She's been doing it ever since.

In 2014, she migrated north to the Central Coast of NSW where she lives with her most treasured items: laptop, high heels and countless meerkat figurines.

Fate, is the first novel written by Kate and the first in the Fallen from Grace series.