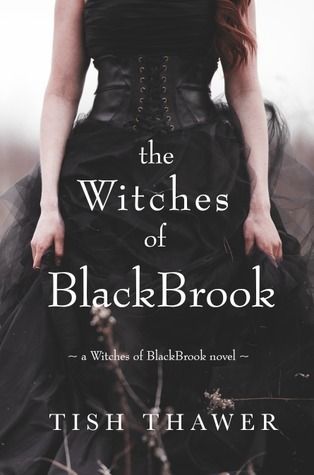 The Witches of BlackBrook by Tish Thawer
(The Witches of BlackBrook #1)
Published by: Amber Leaf Publishing
Publication date: June 23rd 2015
Genres: New Adult, Paranormal Romance

Through space and time, sisters entwined. Lost then found, souls remain bound.
Three sisters escape the Salem witch trials when the eldest casts a spell that hurdles their souls forward through time. After centuries separated, fate has finally reunited them in the present day.
One the healer, one the teacher, and one the deceiver.
Will their reunion return their full powers, or end their souls journey forever?
A Witches of BlackBrook novel.



I received a free copy of this book via Xpresso Book Tours in exchange for an honest review. I made no guarantee of a favorable review.
Oh my God!! This is a book deserving of more than five stars. This is the story of three sisters; witches to be precise. As the oldest of the three sisters, Karina is tied to a stake ready to burn to death for her crime of witchcraft, she casts a spell that will forever bind them to finding each other in other lives and through time.
Trin and Kit always manage to find one another but they never find the third sister but this newest incarnation they are living is about to change as unexpected people come into their lives and throw things into utter chaos.
Tish Thawer's intriguing story line is weaved and crafted into a magical and spellbinding web that kept me up until the wee hours of the morning biting my finger nails and cheering for the sisters. Strong story line and well developed characters that will sweep you away. I was completely floored by this amazing book and I recommend it to every one.
"We are the granddaughters of the witches you weren't able to burn." - The Witches of BlackBrook
I give this book

​

Tish Thawer writes paranormal romances for all ages. Her magickal elements and detailed world-building are a welcome constant in every novel.
Before becoming a writer she worked as a computer consultant, a photographer and a graphic designer. She also operates a custom glass etching business, in addition to being a wife and the mother of three wonderful children.
She's been a fan of the paranormal for as long as she can remember. Anything to do with superpowers, myth and magic has always held a special place in her heart. From her first paranormal cartoon, Isis, to the phenomenon that is Twilight, this genre has always been a part of her life.
A common FAQ: "How do you pronounce her last name?"
Answer: Think "Bower" or "Thow-er". It's Persian!