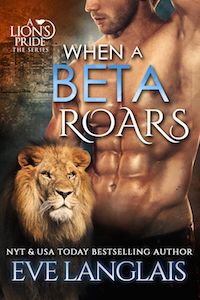 When A Beta Roars by Eve Langlais
(A Lion's Pride #2)
Publication date: July 7th 2015
Genres: Adult, Paranormal

How degrading. Stuck babysitting a woman because his alpha said so. As Pride Beta, he has better things to do with his time, like washing his impressive mane, hunting down thugs for fun, and chasing tail—sometimes his own if his lion is feeling playful.
But his babysitting job takes an unexpected turn when the woman he's assigned guard duty over turns out to be his mate.
A female threatened by an outside wolf pack.
A woman he wants to call his own.
A mate who doesn't fall for his charm.
Usually Beta's leave the roaring to the Pride's alpha, but in this case given his level of frustration, he might have to make an exception. And if anyone doesn't like it, they can kiss his furry tail.

Rawr!


Amazon ♦ Barnes & Noble ♦ iTunes ♦ Kobo
"What do you mean Dominic isn't here?" Arik didn't quite raise his voice, and yet everyone in the barbershop heard him and noted his displeasure. Heads ducked, hands busied themselves snipping and styling, and no one dared meet his gaze.
If they were lion shifters, he would have said it was because they recognized his alpha status—say hello to the king of the concrete jungle. But these were only regular humans, people easily cowed by a man in an expensive suit with a commanding attitude.
Except for one.
"Granddad is out west."
The woman's reply had him spinning, and he inhaled sharply, which drew in more than just the scent of the barbershop. It drew in her tempting aroma—and stirred a hunger that had nothing to do with food.
Smells delicious. For a human.

Hello, my name is Eve and I am a Canadian author who loves to write hot romance, usually with werewolves, cyborgs or aliens.
I should warn you that I possess a twisted imagination and a sarcastic sense of humor something I like to let loose in my writing. I enjoy strong alpha males, and shifters. Lots of big, overprotective shifters. I am also extremely partial to aliens, the kind who like to abduct humans and then drive them insane...with pleasure. Do you like something a little darker? Then check out my cyborgs whose battle with humanity have captivated readers worldwide.
I love to write, and while I don't always know what my mind is going to come up with next, I can promise it will be fun, probably humorous and most of all romantic, because I love a happily ever after.

Hosted by