Title: Overboard
Author: Elizabeth Fama
Date of Publication: June 9, 2015

She swam up for what seemed like an eternity, with her chest so achingly empty it felt as if it had collapsed, seeing only white bubbles in front of her face until she broke the surface.
One moment of rashness, and fourteen-year-old Emily Slake finds herself amid hundreds of panicked and drowning people in the dark ocean waters off Sumatra. Miles from shore without a life vest, she resolves to survive. But in facing the dangers of the ocean, the desperation of her fellow survivors, and her own growing exhaustion, Emily must summon wits and endurance she's not sure she has.
Striking out on her own, Emily encounters Isman, a frightened young Muslim boy, floating in a life vest. Together they swim for their lives, relying on Emily's physical strength and Isman's quiet faith.
Based on a true story, Overboard is both a riveting tale of survival and a sensitive portrayal of cross-cultural understanding in a time of crisis.


Emily might have been the only fourteen-year-old in the world who could change the sheets of a hospital bed with the patient still in it. She had done it more times than she cared to remember.
"I didn't come help," Emily said, refusing the stack of folded sheets that her mother held out to her. "I just came to see if you and James would be home for dinner tonight." She glanced around the clinic. "Where's your loyal candy striper? Madjid is good at beds now."
"We don't use the term 'candy striper' here, Em. I wish you'd be polite to him, at least." Olivia wiped sweat from her forehead onto the sleeve of her white lab coat. "Anyway, Madjid's looking for a repairman to fix the air conditioner."
"What's the point? It never works," Emily griped. The humidity was stifling, as it always was in Indonesia, and today there was an odor in the clinic that pinched at the back of her nose and throat. She breathed through her mouth to dull the scent.

​
I received a free copy of this book when I signed up to host the book tour. I made no guarantee of a favorable review.

What an amazing book! I was so lost in this story that I read it in one sitting. Emily is a young girl living with her parents in Indonesia and she is miserable living there. One day after an incident at the clinic her parents work at, she decides to get on a ferry and go visit her uncle. Little does she know that the ferry is going to capsize and that she'll be fighting to live.

Fast paced, edge of your seat, heart pounding drama at its best with outstanding characters. This story will stay with me for years to come as it was truly captivating. The author pulled me in from the start and every turn of the page had me feeling like I was in that water swimming for my life. This is truly a gripping and must read book.

I give this book

​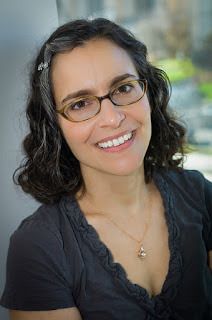 Plus One was published by Farrar, Straus and Giroux in April, 2014. A 2015 RITA award finalist, Plus One was also a highlighted book in VOYA magazine, and was listed among the "Top 12 Young Adult Books of 2014" in the Huffington Post.
Monstrous Beauty, was published by Farrar, Straus and Giroux in September, 2012. It won won the 2013 Odyssey Honor Award, and was included on the 2013 YALSA Best Fiction for Young Adults list and the 2013 YALSA Amazing Audiobooks for Young Adults list.
My first novel, Overboard (Cricket Books, 2002), was named a 2003 Best Book for Young Adults by the American Library Association (one of only eleven books selected unanimously by the committee that year). It received the 2002-2003 honor award from the Society of Midland Authors, and it was nominated for five state readers' choice awards (New Hampshire, Texas, Illinois, Utah, and Florida).