Twisted by Holly Hook
(Deathwind Trilogy #1)
Publication date: December 15th 2013
Genres: Paranormal, Young Adult

Sixteen-year-old Allie's going on the vacation of her life: tornado chasing. What can possibly go wrong with that?
But a terrifying, magical experience leaves Allie shocked and confused, and she learns that she now bears an awful curse.
Every time there's a storm, she turns into a tornado. Literally.
Allie has no choice but to flee her hometown–if she stays, her new powers could harm or even kill everyone she loves.
She must return to the plains and find those who made her this way. But this journey is only the beginning of her adventure.
Twisted is the first book of the Deathwind Trilogy, a new young adult and teen paranormal romance series. The second book, Torn, is also available. Book Three of the Deathwind Trilogy, Unleashed, will be released in Summer of 2015.



I received a free copy of this book when I signed up to host the book tour. I made no guarantee of a favorable review.
Allie loves storms so what better thing to do on a vacation with her uncle than go on a storm chaser tour. Little does Allie know that her life along with the lives of those she loves is about to take a tornadic turn of events.
This was a fast paced read full of twists and turns and filled with strong and well developed characters. I was swept away and look forward to seeing how the story continues. The author's use of weather and spinning it into a story was very creative.
I give this book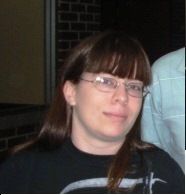 Holly Hook is the author of the Destroyers Series, which consists of five young adult books about teens who are walking disasters...literally. She is also the author of the Rita Morse series, a young adult fantasy series still in progress, and After These Messages, a short ya comedy. Currently she is writing Twisted, a spin-off of the Destroyers Series due out in December. When not writing, she enjoys reading books for teens, especially ya fantasy and paranormal series with a unique twist.

Follow The Book Tour
Hosted by