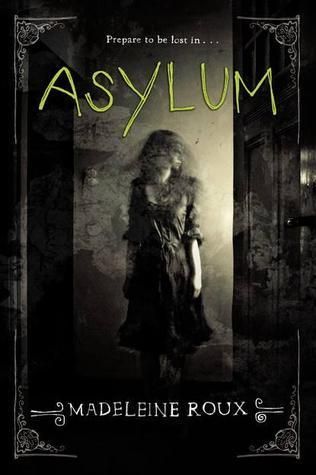 Asylum (Asylum #1)
by Madeleine Roux
Published August 20th 2013
Published by HarperTeen
Genres: Young Adult, Horror, Paranormal

Asylum is a thrilling and creepy photo-novel perfect for fans of the New York Times bestseller Miss Peregrine's Home for Peculiar Children.
For sixteen-year-old Dan Crawford, New Hampshire College Prep is more than a summer program—it's a lifeline. An outcast at his high school, Dan is excited to finally make some friends in his last summer before college. But when he arrives at the program, Dan learns that his dorm for the summer used to be a sanatorium, more commonly known as an asylum. And not just any asylum—a last resort for the criminally insane.
As Dan and his new friends, Abby and Jordan, explore the hidden recesses of their creepy summer home, they soon discover it's no coincidence that the three of them ended up here. Because the asylum holds the key to a terrifying past. And there are some secrets that refuse to stay buried.
Featuring found photos of unsettling history and real abandoned asylums and filled with chilling mystery and page-turning suspense, Madeleine Roux's teen debut, Asylum, is a horror story that treads the line between genius and insanity.



I cannot begin to express just how much I loved reading this book. I wasn't even halfway through it and I had already purchased the second book in this series.
This is truly a creepy read as it blends young adults, an old and abandoned asylum with portions of it turned into dorm rooms, vintage pictures and of course an eerily paranormal factor. Edge of your seat, spine tingling read that pulls you in right from the very beginning and overwhelms your senses with a strong storyline, well developed characters and the world building was fantastic.
I can't wait to start reading the second book as I must say that I was completely impressed by the author's skill at storytelling and the goosebumps I got while reading this book.
I give this book

Madeleine Roux received her BA in Creative Writing and Acting from Beloit College in 2008. In the spring of 2009, Madeleine completed an Honors Term at Beloit College, proposing, writing and presenting a full-length historical fiction novel. Shortly after, she began the experimental fiction blog Allison Hewitt Is Trapped. Allison Hewitt Is Trapped quickly spread throughout the blogosphere, bringing a unique serial fiction experience to readers.
Born in Minnesota, she now lives and works in Louisiana.
​