Annabel Fanning is a British-born, Australian-based writer and full-time cat enthusiast. When she's not indulging in her love of writing, she likes to paint her nails, shop and wander off into nature — not necessarily in that order.
She began writing songs as a child, the most memorable of which was entitled: "Tropical Night in Switzerland". Throughout her teens, songwriting was the most rebellious form of expression that she was willing to partake in (no tattoos, drugs, or biker boys) and her love for storytelling developed. There was just one problem: music wasn't her passion.
A month before her 20th birthday whilst sitting under the Californian sun a few deck chairs down from Robert Pattinson, inspiration struck, and Annabel began writing her first novel. The years flew by and now at 26, Annabel has written a handful of novels, which she plans on releasing throughout 2015/16. She'd really like it if you read them.
SHE SERIES
(note: this series is erotic romance, for the NA series, scroll down)
PART 1
"LOVE and SEX at once, is a powerful combination."
Escape into Annabel Fanning's feel-good bestselling erotic debut. She Part 1 is a contemporary and humorous look into the lives of two people who are on the precipice of true love. The novel uniquely crosses several genres, mixing first-grade erotica seamlessly with women's lit and breathtaking romance.
The story unfolds over sixteen thrilling and erotically-charged days, during which the reader is thrust into the heart of Paris, the novel's backdrop, and into the daily lives of the construction world's elite.
Logan Leary is a reformed bad-boy who moved to the city of love fifteen years ago to start his life over. Now he owns one of Paris's most successful companies and leads as seemingly charmed life. There's just one thing missing: Gemima Samuels.
Gemima Samuels moved to Paris with her down-on-his-luck boyfriend eight years ago. She coasted through life (in that annoying way we sometimes do) until her boyfriend cheated on her and life dealt her a wake up call. Choosing to start afresh, Gemima ends her relationship and quits her job before being hired by the most prestigious interior design firm in the city.
A supposedly inconsequential lunch date turns out to be the start of something phenomenal that will change both of their lives forever.
Set in picturesque Paris, She Part 1 is an erotic tale about falling madly in love. Combining sex, passion, and romance, these two high-flying professionals will leave you saying, "Oh, la la!"

PART 2
"LOVE and SEX at once, is a powerful combination. LOVE and SEX in Paris, is better."
In this sequel Annabel continues to effortlessly marry several genres. From laugh-out-loud comedy to steaming erotica to heart pounding romance, She Part 2 has it all.
Picking up where Part 1 left off, Gemima and Logan escape Paris for the weekend to indulge in all manner of pleasurable things on the French Riviera. Relaxation, sightseeing and sex — it's a perfect combination!
Once back in Paris, life hands out a few surprises, from troublesome ex-boyfriends, to changes at work, to a heartwarming best friends confession. But the lead up to Logan's birthday brings one event that Gemima must conquer (and try her best not to say anything inappropriate which, you know, is hard for her!) She must meet Logan's parents, and his bastard of a brother…
Taking place over thirteen electric days, She Part 2 continues to explore love, sex and a relationship unlike any other you've ever read. This smart-talking duo will leave you saying, "Oh mon dieu!"
Part 1 is 115,000 words and Part 2 is 150,000 of "oh, la la" goodness. For readers 18+ over only. Contains explicit sexual content, a hero that will make your heart flutter, and a heroine who will make you laugh out loud. To experience the full scope of their relationship, this series is designed to be read in its entirety.

A selection of readers' comments.
5* — "Amazing!"
5* — "Beautifully written."
4* — "Beyond hot."
5* — "A love story in every sense of the word."
5* — "These two will go down as my favorite couple in any book I have, or will ever read!"
5* — "A phenomenally brilliant conclusion."
5* — "MUST READ."
5* — "Hilarious."

US Store
UK Store
AU Store
BONUS chapter
Free to download here.
Can be read before, after or during the series.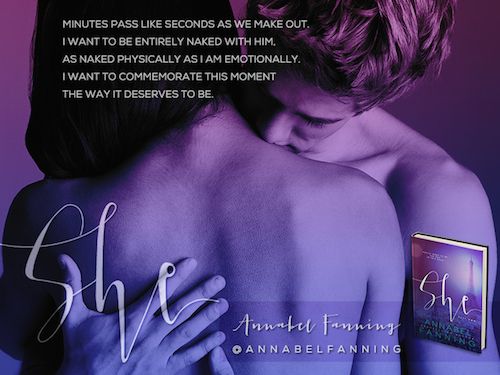 Join Annabel's Reading Group here.
Sign up for Newsletter here.
​