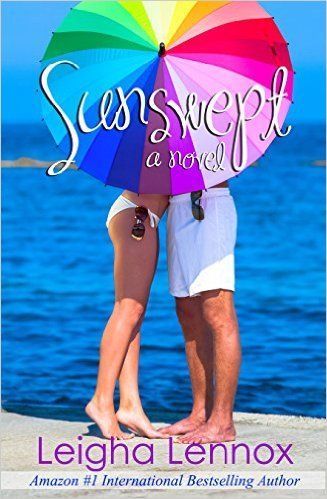 Sunswept
(Blue Mountain Beach Book 2)
by Leigha Lennox

Meet Trista Carmichael. She was once Hollywood's hottest TV star. Until a surprise firing and a broken heart led her away from Tinsel town and back to her hometown of Blue Mountain Beach, Florida.
Meet James Riker. He was a bartender living a surfer life in Blue Mountain Beach. The hottest catch in town, Riker could have any woman he wanted.
The two collide with a force that can only be described as explosive. Who said falling in love was easy? A series of events, that neither expected, threaten to tear them apart.
Riker moves to the Florida Keys to lick his wounds. He opens his dream bar, Mangoes, and tries to put Trista out of his mind for good. And another woman aims to make Riker forgot all about his one true love.
Trista lands a coveted role on Broadway. She loves the big city and the bright lights. Putting the past behind her, Trista falls for a handsome real estate mogul. He offers her a life of luxury and ease. But her heart still yearns for the one person she can never have.

True love only comes around once in a lifetime. Losing that love can be devastating. Finding someone new for a second chance at love takes bravery.
Will Trista and Riker realize the love that binds them together or choose a different path?
Sunswept is the sequel to Sunkissed.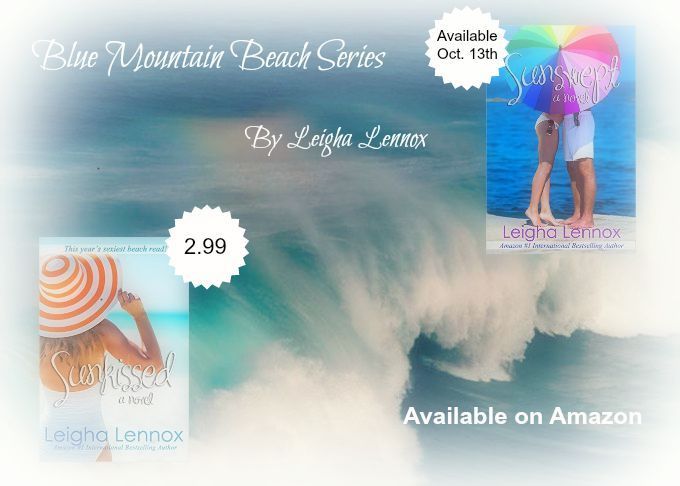 Who inspired you to become a writer?
My love of reading and writing began early in life – around ten or eleven years old – when I would read Nancy Drew books. At one point my parents gave me a typewriter for Christmas and I would type short stories on it.
My senior year of high school I had an amazing teacher, Mrs. McGuire, who pushed me to write every day and always complimented me on the short stories I would write. From there, the love of writing never left me.
Besides the Blue Mountain Beach books, what other books have you written?
I started writing my first novel, Burn Out, in 2005. I became obsessed with the Natalee Holloway story, and couldn't stop watching the news report. I began to wonder how someone just disappeared without a trace. I wrote off and on for about five years before I finished Burn Out, and self-published (this is when the self-pubbing became all the rage). That became the beginning of the Rachel Scott series. Within a month of putting it on Amazon Kindle's publishing platform, it hit a bunch of bestseller lists. By the time summer rolled around I was getting emails and calls from publishers and agents wanting to represent me. I signed with Thomas & Mercer, one of Amazon's publishing houses, for a four-book deal for the Rachel Scott books. Asylum Harbor, Cut & Run, and Deceptive Measures followed.
After having a big success with the mystery series I decided to try my hand at writing romance, which is another genre I love to read. Then came the decision on whether to use my real name to publish the romances or invent a pen name. There are several authors who use different pen names to separate genres they write. Nora Roberts and Stephen King to name a couple. So, I did the same and Leigha Lennox was a born! I now write all my romance books under that pen name.
How long did it take you to complete your first book?
About 5 years. When I was put on bedrest while pregnant with my second child, I started writing the Rachel Scott series. I toyed with that series for five years until I got serious about finishing the book and hitting the "publish" button!
What is your current work in progress?
I go back and forth between writing romance and mystery. I am working on a new mystery series with a brand new cast of characters! I am hoping to publish the first book in the series by January 2016.
I also wrote three novellas – romantic comedy genre – a couple years ago. I have since pulled them from Amazon and decided to make them into full -length novels. They will be re-published around the holiday season.
Who are some of your favorite authors?
I have so many as my influences have changed over the years. When I was a child I devoured every Nancy Drew book, and I loved, loved, loved Judy Blume.
These days my favorite writers are more varied. I'm a big fan of Sophie Kinsella, Stephen King, Nora Roberts, John Grisham, James Patterson, and Carl Hiaasen.

#1 Amazon International Bestselling Author Traci Hohenstein has kept you in suspense with her mystery novels. Now she's back writing under the pen name, Leigha Lennox, with page-turning romances that will spice up your nights.
A little about me... I live in NW Florida with my husband, who is a firefighter, and my three kids. We live near the beach, where I love to hang out every chance I get. I am a full-time writer, but in my spare time I love to paddleboard (YOLO!).
I'm the author of the bestselling Rachel Scott series: Look For Me (series prequel), Asylum Harbor, Burn Out, and Cut & Run. The series centers around Rachel Scott and her search-and-rescue company, Florida OmniSearch, and Rachel's search for her own missing daughter.