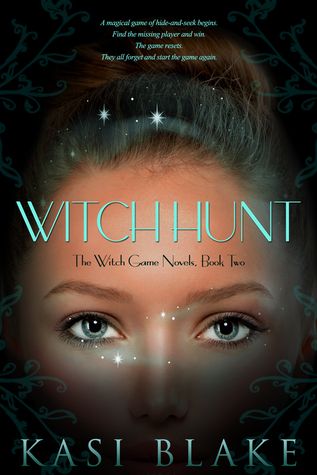 Witch Hunt
(The Witch-Game #2)
by Kasi Blake

A magical game of hide-and-seek begins.
Find the missing player and win.
The game resets.
They all forget and start the game again.
Seventeen-year-old Starr Hughes hasn't believed in magic since the day her mother died. As an aspiring reporter, the only thing she cares about is cold, hard facts. So when she hears the popular kids at school (the It-Squad) are about to start a secret game, she wants every detail, especially since she has a major crush on gorgeous Dylan Winchester. Hiding under the headmaster's desk, planting bugs, and breaking into a classmate's home are all on her to-do list. With her boy-crazy best friend Lily at her side, Starr discovers that witches are not only real, but they also need her help. Someone is using the game to steal their memories, their powers, and perhaps even their lives.



I received an ARC via Clean Teen Publishing Elite Reviewers which I am a member of. I made no guarantee of a favorable review and the opinions expressed here are my own.
Kasi Blake has once again out done herself and I loved reading this book. This well written story line has us tagging along with high school news reporter Starr who has a knack for digging up the truth no matter what the cost. Her latest news report has made her a complete outcast and the majority of her classmates now despise her. Thankfully, she still has her bestfriend Lily.
Now Starr has set her sights on the Squad which her love interest Dylan is a part of and once she hears that the game of the fox and the hounds is about to start she knows something is definitely up and nothing will get in the way of her learning what the Squad is truly up to. Starr has no idea of the shocking truths she'll uncover along the way.
This stand alone book is a fast paced read and the characters are outstanding. Get ready to get tangled in this author's web.
I give this book

Born and raised in California, I fell in love with writing while reading The Outsiders. Then I fell in love with Stephen King's writing style. I enjoy reading many types of books, but YA Paranormal is my favorite. I used to write for Harlequin under a different name. So that's my background. Exciting, no?
I have seven books out now: Vampires Rule, Werewolves Rule,Shifters Rule, Crushed, Witch Hunt, Bait, and my only adult novel, a romantic suspense called Pandora's Box.
​
​