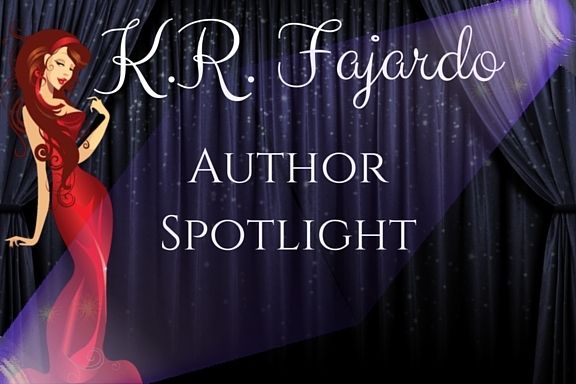 K.R. Fajardo is a married mother with 3 children who lives in East Texas and works part-time as a IMC nurse. She loves chocolate, Dr. Pepper, 80's music, and anything paranormal. Her favorite way to unwind after a long, hard day is to kick up her feet and immerse herself into the fantastical world of a good book. But when her youngest child started to school several years ago, Kelli suddenly found herself with a large amount of extra time on her hands for the first time in over fifteen years.
For a short time, she considered going back to college and obtaining her master's degree, but swiftly decided that was not the path for her at the moment. Instead she decided this was the opportunity she had been waiting for to pursue her long time passion in writing, and after a year of hard work and stumbling through the process, she self-published K The Awakening. Spurred on by the positive feedback she has received from K The Awakening, Kelli has now completed her second novel Linked, which will be released by Anchor Group Publishing in April of 2016 and has already begun working on the third book in the Shadow Chronicle series, which if all goes well, will be released in Dec of 2016.
I want to thank Kelli for taking time out of her schedule to do this interview. Let's get started!
Did you always want to be a writer? If not what did you want to be?
I have always had a desire to write but never pursued it due to timing and life in general. But when my youngest of three kids started to school a few years ago, I suddenly had spare time for the first time in 15 years and decided it was either now or never.

How long did it take to get your book published?
K The Awakening is a self-published novel. It took me a year from the time I started to the first time I uploaded it to KDP's website in Nov 2014. However it has gone through a couple of edits(both by myself and professionally) and 2 covers changes since that time. What can I say, I am a perfectionist, anyway, the version that is currently listed on Amazon has been out since Sept 2015.

Do you have a job other than writing and can you tell us more about it?
Yes, I am a Registered Nurse and have been working part-time in a Cardiac IMC unit for the last 15 years. There I take care of a wide variety of patients with illness ranging from congestive heart failure to patients who have just had heart bypass surgery. On top of that I also work part-time as a recovery room nurse for a day surgery center, do the bookkeeping for my husband's electrical company, and play chauffeur for my three wonderful children.

What is the name of your latest book, and if you had to summarize it in less than 20 words what would you say?
K The Awakening is a fantasy novel that I like to describe as a Game of Thrones type story but with paranormal characters.

Who is your publisher? Or do you self-publish?
K The Awakening is self-published, however the sequel which is to be released in April 2016 has been picked up by Anchor Group Publishing.

How long did it take you to write this book, from the original idea to finishing writing it?

The actual first rough draft took me approx 6 months to write, then I went back and edited it, adding more details as I went. Looking back now, I can honestly say the first draft I published on KDP in Nov 2014 was pretty rough, although it still managed several good reviews. Later on I came across editor Melissa Ringstead in June 2015, who helped me clean it up and offered some wonderful advice on what I should do to straighten it out some more. She also introduced me to Christina Powell Gomez, who designed the stunning cover that the book has now. So all in all, from the first time I picked up a computer, to the final edition that is out now, K The Awakening has been almost 2 years in the works.

What can we expect from you in the future? ie More books of the same genre? Books of a different genre?
The Shadow Chronicles (the series I am working on now) I have in my mind to be 5 books in length, with possible spin-offs later on to delve deeper into the background of how K and the world she lives in came to be. Besides that I have also come up with a storyline for a romance novel, I have even come up with a title and everything, but that project will have to be put on hold until I finish The Shadow Chronicles or my beta readers are going to kill me. :)

What genre would you place your book into?
Paranormal fantasy.
What made you decide to write this genre of book?
From the time I was little stories and movies about vampires, werewolves, and all things supernatural have been my favorite.
Who or what inspired you to write?
I always wanted to write, but considered it more of an unattainable dream than an actual possibility. After all what chances does someone like me have of becoming published? Then one day I came across this highly rated dystopian book called Wool by Hugh Howey. It wasn't something I was usually interested in, but it was free with Kindle Unlimited so I decided to give it a go. Surprisingly I liked it and while looking up other books by him, I discovered he was an indie author at the time he released that book. After reading several articles he wrote about the self-publishing process and his story I decided to pick up my laptop and write my first book.
Do you have a certain routine you have for writing? ie You listen to music, sit in a certain chair?
So I write the first draft of all my books on my laptop either laying in bed or propped up on my couch after everyone else has gone to bed, meaning most of my writing gets done after 9 pm. Depending on how well things are going there have been nights where I have stayed up past 2 am writing. However, once I get done with the first draft and I am ready to edit, I move to my office and work from my desktop with my feet propped up on a stool. I don't know why, but I just can't edit on my laptop, I have tried several times but it drives me nuts and I always end up in my office.
Do you read all the reviews of your book?
Yes!!!! I love reviews and check everyday for new ones! Nothing makes me happier than reading a review and finding out what someone else thought about my book!

Did you choose the title first, or write the book then choose the title?

I wrote the book first. I wanted to name the book just Awakening, but then I got online and saw how many books already had that name and decided to change it up a bit.
How do you come up with characters names and place names in your books?
Lol, K's name is kind of my way of not having to decide on a name. I knew I wanted a name that would start with the letter K, don't ask me why it was just always how I imagined it, anyway I couldn't decide on one I liked that fit her, so settled on just calling her K. Most of the other names are spin-offs on names I like, for example Mikel(Michael), Dirik(Derrick) and Jarod(Jared). Aziel, Gaia, and Kai and all names I Googled, which mean fire, earth, and water respectively. And the others are just names I came up with out of the blue (Rigar, Vantaria, and all the city names).
Did you decide on character traits (ie shy, quiet, tomboy girl) before writing the whole book or as you went along?
K is a character that has lived in my imagination for as long as I can remember, so I knew from the start I wanted her to be strong female lead with a powerfully demanding presence despite her tormented past. The rest of the character's I built around the story I had developed for her, deciding on their traits as I went. Jarod(the Enforcer) for example has become one of my favorite characters since writing these books. He is massive, strong, and has a raging temper, and was developed early on because I needed an antagonist in K The Awakening, but then I wasn't satisfied with just making him the villain. Now he has become one of the most complex characters in the story, with a storyline that just keeps on getting better.
Are there any hidden messages or morals contained in your books? (Morals as in like Aesops Fables type of "The moral of this story is..")
While I didn't design this book with the intentions of hiding a moral lesson, I do believe that it has developed one that has clearly carried over into to book 2. And that lesson would be to not take for granted the people you care about and love, because eventually the day will come when they will no longer be there.
Which format of book do you prefer, eBook, hardback, or paperback?
I prefer paperback. However since I read a lot and usually at night I have resorted to ebooks just for the convenience and cost efficiency.
Do you think books transfer to movies well? Which is you favorite/worst book to movie transfer?
No, because there is no way to fit everything from a good novel into a hour and half long movie, either something must be cut or the it will seem too busy.
Worst movie ever made based off a book?
Cassandra Clare's Mortal Instruments
It felt rushed, several of the character's didn't match the book's descriptions, and the acting was cheezy.

Your favorite food is?
I love Lindor's Truffles!! Well, anything chocolate really, but those are the best!
Your favorite singer/group is?
Bon Jovi
Your favorite color is?
Red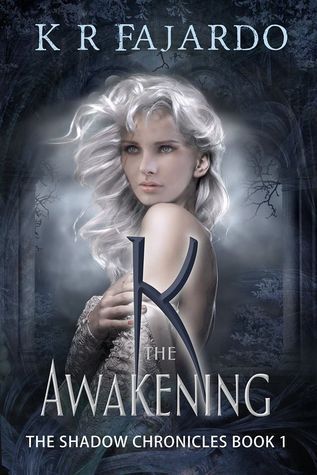 "Fifty years ago the Shadows betrayed me, left me to wither slowly into nothing, chained deep inside a hidden mountain cave. Meanwhile they took control of my kingdom, killing or enslaving any who would dare oppose them. But I am a patient woman … and immortal. The Shadows should enjoy their reign of terror while they can, in the meantime, I will continue to stare at these dark walls plotting my revenge. After all, it is only a matter of time, and I have all the time in the world." K.
In the small town of Vicaris, Mikel and his daughter Citera live in and run a small clinic. It's often chaotic and overwhelming, but neither of them would have it any other way. But their desire to help those in need, regardless of race or status, has often made them a target of the harassment by the Shadows forces.
Even so, when their Full-blood friend Rigar shows up at the back door of the clinic with the emaciated body of a young woman, Mikel doesn't hesitate to bring her inside. And when they find out only minutes later the Shadows forces, including their henchman the Enforcer, are heading their direction, Mikel bravely puts his life on the line to protect the mysterious stranger.
Unbeknownst to Mikel, this young woman is the immortal queen the Shadows have been searching for decades to find. And it doesn't take long before Mikel and his friends find themselves thrust into the midst of an ancient feud that will eventually decide the fate of Vanteria once and for all.


They say don't judge a book by its cover but I will tell you that I purchased an ebook copy because of the beautifully stunning cover. I kid you not as I didn't even read the synopsis. And guess what? Once I started to read it I had an extremely hard time putting it down as I loved it!
The author quickly pulled me in to her world building and story line and I found it to be a breath of fresh air as the plot is very intriguing. I eagerly await the release of the next book and I know this author will continue to be a success.
I give this book:


​