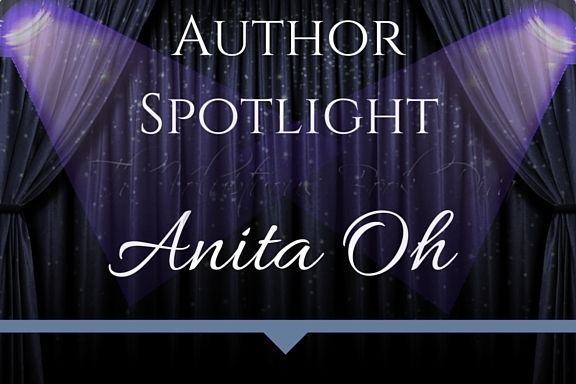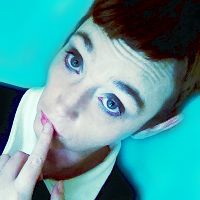 After several years in the warm, comforting cocoon of fandom, Anita has decided to see what's up with this real world she's heard about. Judgment is reserved until more information can be gathered.
Anita likes dogs, naps, food, and Japanese idol group Arashi. Everything else can be improved when combined with these four things.
Anita lives with a grumpy beagle who bosses her around terribly, and won't even snuggle.
I was so excited to snag an interview with Anita and wish to thank her again for taking the time to do this and for her great sense of humor. Let's get started!
Where do your ideas come from?
I just look at the type of things I like, what I thought worked and what I would've done differently, then I steal the bits I like and dump the rest. Basically, everything I write is just a massive multiverse fanfic with a few bits of myself thrown in.
Give us an insight into your main character. What does she do that is so special?
The main thing about Lucy, I think, is that she's very poor and she's had to take on the responsibility of looking after her family with no money and nobody else to rely on. I think she's been forced to be really practical about things, which gives her an interesting perspective when she gets to this school full of super rich, supernatural people.
What part of your writing time do you devote to marketing your book?
Not nearly enough! The Truth Spell was my first book, so I still don't have much idea about the marketing side of things, and I'm really bad at it! I always feel as if I'm being too pushy or that people don't care or whatever, so I'm really hesitant about posting on social media and that kind of thing. I need to get over myself and just do it!
What do you do to get book reviews?
For The Truth Spell I did a book blitz and review query through YA Bound (http://yaboundbooktours.blogspot.com.au), which was really fun. Again, this is one of those things that I'm really bad at but I guess I'll learn as I go along!
How successful has your quest for reviews been so far?
Really successful! Well, I mean, my bar for success was pretty low, I'm shocked that anyone left any reviews at all! But everyone has said really nice things and I'm super happy with the response so far!
In what formats is your book available?
At the moment, just mobi because I wanted it available through Kindle Select, but once book 3 is out in late April, it will be available on all platforms as well as paperback. If anyone is desperate to read it in a different format, they could message me and I'd organize something though!
What's your next project?
Werewolf High #2: The Tiny Curse, which is out March 15th and currently available for preorder on Amazon here — so far it's been a lot of fun to write. In this book, Lucy makes some new enemies and ends up being shrunk to two inches tall!
Have you ever had the feeling you were being watched?
All the time. It's always my dog, trying to mind control me into giving her food.
If you could go to the past or future, where would you stay and why?
Probably neither. The past seems like it would be cool but then you have to think they didn't have antibiotics or hygiene or women's rights, so I'm not sure I'd like it. I'd have to see the future before I made a definite decision, it might be a dystopian wasteland, but I kind of like the present well enough. My dog is here and the coffee is good, so I'm satisfied!
If you had the ability to do two major task at the same time, what would they be?
Sleep and eat. Or sleep and work. Sleep and anything else would be good… I'd sleep and sleep if I could! Double sleep would be awesome!
Name one funny trait you have, that you would like others to know.
I'm really gouda at making puns about cheese.
Sitting alone in a big field, looking at stars, what do you think/feel?
My though process would go something like: I hope I am actually alone in this big field. I hope there are no snakes. Or serial killers. How did I even get here? Am I kidnapped? How am I going to get home? Why am I not in my bed? I wish I'd bought a jacket, it's a bit chilly out here, alone in this big field. Wow, stars are sparkly!
If you were to perform in the circus, what would you do?
I'm clumsy, so anything acrobatic is out, and I'm against animals being used for entertainment purposes, so it would be one of those animal-free circuses… I could be a ringmaster! I could have a top hat and a twirly moustache and a megaphone, that would be cool!
You were bitten by a werewolf, now what?
I'd go running with my dog! We could sniff things and frolic around and howl at stuff, then come home and have snuggle naps together!
Why am I asking you these questions?
Mind control, probably.
Thanks Anita for your candid and fun answers!

As soon as I stepped onto the grounds of Amaris High, I knew I'd made a big mistake. I could never fit in at such a snobbish school – I was more IT girl than "it girl". But then I saw him.
Sam Spencer. My childhood best friend. But it couldn't be. Sam Spencer had died three years ago, on the night that changed everything. I need to know what happened, why he's suddenly not dead and is hanging out with a bunch of rich kids.
When the school is hit by a truth spell, it seems like the perfect chance to find out what Sam and his creepy new friends are hiding, but the weirder things get, the less I'm sure I want to know. Even for Sam, even for the free food, Amaris High might be more trouble than it's worth.
Or read it for FREE via KU

I received an eARC via the YA Bound Book Tours review library. I made no guarantee of a favorable review and the opinions expressed here are unbiased and my own.
What a fantabulous YA read!! I just couldn't get enough of this book. Lucy comes from a poor family and has been fortunate in receiving a scholarship to a prestigious and very private high school. Upon arrival at the school she is greeted by her roommate Hannah who tries to acclimate Lucy to her new surroundings however, she immediately gets on golden boy Terryson's bad side and she becomes the school pariah. Lucy has also suffered devasting losses in her young life but things aren't always what they seem and she is quickly cast into some paranormal/supernatural drama and time is not only running out for her but also for the entire student body.
This fast paced read was well written, suspenseful and the characters all have unique characteristics. The world building was so vivid that I quickly became a part of the student body. My favorite quote from this book is; "The truth is everything. Every work of art aims to reveal the fundamental truths that we all yearn for. We study them to uncover the truths we've not yet discovered for ourselves." I cannot wait to see how the story continues in the next book.
I give this book:

​

​

​