In Ronnie Billings' dystopian world, surviving the Letting and breaking free of a corrupt government is less of a surprise than falling in love with Phoenix Day, the leader of the Peaceful Revolution…
When the government sentences Ronnie to a Coupling under the guise of producing a coveted blood type, Ronnie discovers the one she's slated to Couple with expects even more.
Prepared to make the ultimate sacrifice to save those she loves most, Ronnie devastates Phoenix with her impossible decision. Whisked away from her rebel life to another world ravaged by despair, Ronnie meets her greatest nemesis...her biological father.
Steeling her nerves against the dangers of escape, she embarks on the perilous journey back. She is convinced she belongs with Phoenix and his revolution, but will her friends, and especially Phoenix, be ready to accept her when she returns? Because this time, evil is in her blood...

Amazon ♦ B&N ♦ The Wild Rose Press ♦ Kobo
Book One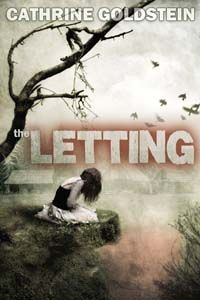 "Phoenix?"
"Trust me, Ron."
I nod, my hands suddenly shaking. He takes them into his hand and lifts them to his mouth. He kisses my fingers softly.
"You're grieving right now—I would never take advantage of you. But…"
I take a deep breath.
He lets go of my hands and reaches out toward the still unbuttoned top two buttons of my shirt. The collar lays open, and his fingers trace the hollow of my throat. "You look gorgeous in my shirt."
His eyes are locked on me, and I feel overpowered but safe all at once. There's a strange ache in my body, answering to the hunger in his eyes.
"It is by far the most beautiful you have ever looked."
My eyes dart up as he reaches out to touch the next button. He studies me as he slowly begins to unbutton. My entire body warms, and I bite down hard on my bottom lip. He abandons my button to run his fingers across my lips once more. I try to remember to breathe.

Name: Phoenix Day.
Age: Eighteen
Physical Description: Incredibly tall and strong. He has tousled dark hair, and a dark, short, scruffy beard. His eyes are deep blue—in The Letting, Ronnie describes his eyes as: "…His eyes are the color of a moment. That fleeting moment when the summer sky is so perfectly blue you know everything must be right in the world." He is breathtakingly handsome and brilliant.
Profession: Leader of the Peaceful Revolution and now the reconnaissance mission to HopeLess World.
Traits: Sees the good in everyone. Believes in peace above all else. Learns from the wisdom of the ancients—especially Gandhi. Loves Ronnie with every ounce of his being.
Strengths: Confident, always in control, with great amounts of magnetism. Intelligent.
Flaws: Jealousy, and a desire to harm anyone who may ever hurt Ronnie.
Ambitions: To protect Ronnie at all costs, while righting their world.
Skills: Great with his hands, can build anything with wood. Passionate but calm under pressure. An excellent leader. Daring, brave, courageous. Both physically and mentally strong.
Motivations: Injustice motivates Phoenix to help his world. Ronnie motivates him in all other ways.
Favorite color: Deep brown, the color of Ronnie's eyes.
Favorite food: Ravioli—in particular, the ravioli he shared with Ronnie that first time they were alone in his cabin.
Favorite song: In their dystopian world, music is a luxury they don't know. However, one of Phoenix's favorite songs would be, "Wherever You Will Go" by The Calling.
Wardrobe: Usually wears camouflage, but knows Ronnie loves him in jeans and t-shirts. Almost always carries a rifle.
Goals: Equality in their world—and to be with Ronnie, always.

Name: Veronica "Ronnie" Billings
Age: Seventeen
Physical Description: Almost six feet tall, with very long jet black hair, and almond-shaped eyes. Ronnie is exotic, she is a mix of her ancestors who were the "Natives," and, people who came from, "An exotic place on the other side of the world; a thriving place which once was painted in the color red." Ronnie is beautiful and extremely intelligent, although she doesn't realize it.
Profession: One time Head Leader of a camp that brought young girls to the Lettings, now works with Phoenix in his Peaceful Revolution.
Traits: Also sees the good in everyone. Is willing to sacrifice herself for the sake of those she loves most. Fights tirelessly for what she believes in. Loves with her whole heart. Loves to swim. Terrified of thunderstorms.
Strengths: Bold and strong. Brave. Intelligent.
Flaws: Doesn't know how smart she is. Blames herself for her past as the Leader who had singularly brought more young girls to the Lettings than any other Leader in history.
Ambitions: To end the Lettings and the Couplings. To protect those last little girls—the type "O" blood types—still in her care. To aid Phoenix in his quest to lead a Peaceful Revolution and bring equality and hope to their world.
Skills: Great leader. Excellent with children. Thinks on her feet—solves many problems.
Motivations: Love motivates Ronnie. Her love for the girls in her care, for her friends, and especially, Phoenix.
Favorite color: Deep blue, the color of Phoenix's eyes.
Favorite food: Ravioli—in particular, the ravioli she shared with Phoenix that first time they were alone in his cabin.
Favorite song: There isn't much music in their dystopian world, but, "A Thousand Years" by Christina Perri would be a favorite of Ronnie.
Wardrobe: Usually wears black tank tops and camouflage, but when with Principal Leader Farnsworth, wears gowns and business attire she detests.
Goals: To bring peace to her world, to receive an education, and to be with Phoenix…always.

Here's what I listen to while I'm writing The Coupling. There are so many highs and lows for Phoenix and Ronnie in The Coupling, the playlist is an eclectic mix.
Christina Perri—A Thousand Years (This Ronnie's song)
The Calling—Wherever You Will Go (I listened to this over and over. This is Phoenix)
X Ambassadors—Renegades
3 Doors Down—Here Without You
10,000 Maniacs—Because the Night
Plain White T's—Hey There Delilah
U2—With or Without You
Coldplay—Paradise
Boston—More than a Feeling
Pat Benatar—Love is a Battlefield
John Legend—All of Me
Passenger—Let Her Go

Given my love for cities and all that is gritty, my new obsession with trees really has me stumped. (Sorry.) Maybe it's because trees are the inspiration behind my new YA/NA novel, THE LETTING.
Whatever the reason for my new infatuation, some things remain constant -- like my love for: coffee (although sadly, it's now decaf); yoga; Luna bars (I am petitioning for them to bring back Chocolate Raspberry!); running in my neighborhood; Hemingway; Bukowski... and, above all, my husband and my girls.
I am the author of the bestselling novel, Sleeping With Mortals: The Story of a New York Mistress, and I'm also a playwright. I have my B.A. in English and my M.A. in Theatre.