I wear many hats. Author, mother, cook, housekeeper, laundry do-er, sister, daughter. I enjoy writing, it allows me to escape the realities of life: bills, day job, baths, supper, dieting, cleaning the litter box.
My writing is usually romantic in nature with a bit of humor and a bit of surprise. My books range from Vampires who fall in and out of love so many times I had to make it a series to christian stories of finding out what is important in life.
I have always loved writing. During my high school days I wrote one book. It was a vampire love story. It took me so long to write it that I began to think of the characters as real people. I still do that today.
On a personal note: I have three wonderful children - Gavin, Arabelle, and Elijah, two not so wonderful cats, and two rats. We all live in a small town in northern Ohio. There is more corn here than vampires or werewolves, at least that I know of.
Amy was kind enough to take the time and answer some questions. Let's get started.
TVBD: So, what have you written?
Amy: I have written a trilogy called the Speak No Evil series. It is a ghost story but also a story about a young woman who finally finds her voice after a very long time of silence.
TVBD: What are you currently working on?
Amy: I am writing a book about time travel. It's so much fun to write!!
TVBD: What genre are your books and what draws you to this genre?
Amy: I write alot of different things but most of it has romance, fantasy, and paranormal.
TVBD: When did you decide to become a writer?
Amy: I've always liked to escape into books and then into my own stories but I always thought of it as a hobby and not really a "job". My aunt was the first person I let read my stories and so she became the first person to encourage me to try and get them published. I still hesitated after a few rejections and it wasn't until she unexpectedly died that I really pursued getting published. I think it really hit me then that life is short and to go for what you want!
TVBD: How do you think you've evolved creatively?
Amy: Writing is such a process. I am constantly growing and changing, with each book my writing gets better. I hope I'm never "perfect" at it. Learning and growing are too much fun!
TVBD: How long on average does it take you to write a book?
Amy: If i just write straight through, a few weeks. But usually I get distracted along the way and it ends up being a few months.
TVBD: Do you ever get writer's block?
Amy: I don't think I ever get writer's block, but I do get discouraged and down on myself sometimes which makes me not want to write. I probably could if I sat down and tried, but when I'm in a funk I don't.
TVBD: What advice would you give your younger self?
Amy: I would tell myself to set up a daily writing schedule and stick to it and to work hard and not give up over a few rejection letters!!
TVBD: List five adjectives to describe yourself.
Amy: Happy, Unique, Sarcastic, Creative, Christian
TVBD: If you were to create a slogan for your life, what would it be?
Amy: Geesh, this one is a hard one! "I can do anything if only I am brave enough to try."
TVBD: Tell us something nobody knows about you.
Amy: I get extremely anxious in crowds of people and when it is very loud. And I come from a BIG family with loud voices....this is why I love my stories!!
TVBD: If you could be invisible for a day, what would you do?
Amy: I'd sit in the airport and watch people when they think no one is looking!
TVBD: What's your favorite television show of all time and why?
Amy: Doctor Who. Why? If you've ever seen it, you wouldn't wonder why! It's the best show ever.
TVBD: Most frequent song played?
Amy: The soundtrack to Legally Blonde the Musical.
TVBD: Where can you see yourself in five years?
Amy: I will likely be right where I am now, only with alot more books on my shelf with my name on them!!
I want to thank Amy for doing this interview and for her candid answers.
Let's take a look at the Speak No Evil Trilogy. To see what other books she has written take a look at her Goodreads author page. The link can be found at the end of this post.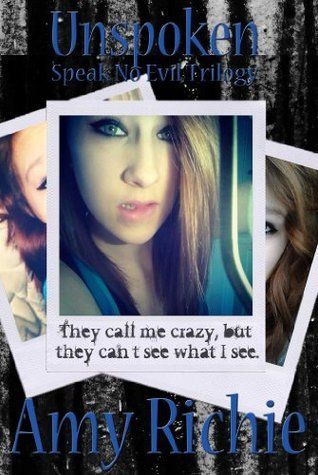 Unspoken (Speak No Evil Trilogy #1)
Ren Collins knows better than most where being different will land a person. A bed in a crazy hospital with only an angry ghost for company. But there are things about Toby that Ren doesn't know, old secrets that are brought into the light only with the appearance of Tristan.
Tristan is different than Toby. Sure, they're both only real to Ren, but Tristan does something Toby never does. He smiles. Ren soon finds herself trusting this new curly haired ghost-person more than she should.
At least, that's what Toby says. But maybe Toby is the one who can't be trusted. Where the ghost people are concerned, can any of them be trusted?
Soft Spoken (Speak No Evil #2)
After escaping from a mental hospital, Ren never thought she would go looking for the ghost-people that haunt her. But then she's separated from Toby for the first time in her life and she has no choice except to go find him.
Ren's world is turned upside down and the only thing she has left to hold onto is Tristan. Can she really trust him though? The only reason he even followed her around was so she would join him and become one of the Cursed.
Will Ren be strong enough to save Toby or is she exactly what Toby has always called her?
Crazy.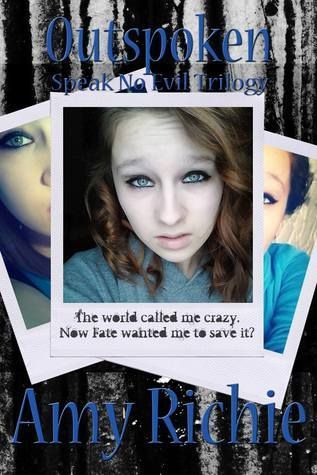 Outspoken (Speak No Evil #3)
"We're all warriors when we have no other choice."
It looks like Ren isn't going to have much choice. In order to save Toby, she has to do the unthinkable. Things quickly take an unexpected turn when Nona shows back up along with a bunch of ghost-people that Ren has never seen. These new ghost-people aren't content with just scaring her though, they're out for blood.
Has Fate finally caught up to Ren just as she's found her voice again?

​

​

​