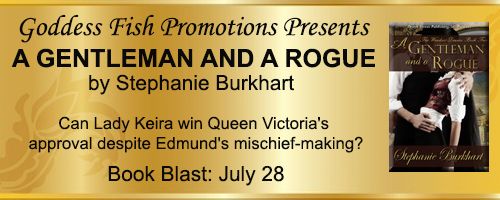 A Gentleman and a Rogue
by Stephanie Burkhart
GENRE: Steampunk romance
Lady Keira Russell is destined to bring compressed natural gas to Britain. Her inner courage and mental toughness rarely falter – except when Prince Edmund Windsor is involved.

Edmund of Wales is from the future. His last jaunt through history muffed up the time line. Now, he's here to set it straight and win Keira's heart.

For Keira, if it isn't one obstacle, it's another. Queen Victoria has sponsored a competition to find a cleaner fuel source than coal. Keira's father is trying to build a windmill and the Ridgecrofts are working with gasoline. Then there's Edmund, whose sensual kisses and heated stares distract her down to her bones.

Keira has a choice: trust Edmund's notorious mischief-making or put her faith in Queen Victoria to make the right decision, but if Keira makes the wrong choice, the future of Great Britain will be changed forever.

PUBLISHER'S BUY LINK:
http://stores.desertbreezepublishing.com/-strse-366/The-Windsor-Diaries-Book/Detail.bok
ALL ROMANCE EBOOKS:
https://www.allromanceebooks.com/product-thewindsordiariesbookthreeagentlemanandarogue-996194-141.html
BARNES & NOBLE (NOOK)
http://www.barnesandnoble.com/w/the-windsor-diaries-book-two-stephanie-burkhart/1113777499
AMAZON (KINDLE:)
http://amzn.com/B00A5CF24C

Rex appeared in the doorway, stoic as ever, with a tray of food. He placed the tray on a nearby table. "The Windsors are here to see you."
Keira jumped to her feet. Her heart accelerated in her chest. Alice and Edmund! Heaven help her. She needed to shore up her willpower when it came to Edmund. Setting her shoulders, she followed Rex down the hall to the vestibule located just off the main entrance.
Alice stood in a simple blue muslin dress and fussed with her reticule. She always did her best to dress for comfort. Edmund wore a brown vest over a white shirt and pressed trousers. His frock coat hung over his arm.
"Keira!" Alice rushed forward and wrapped her into a warm embrace. Keira returned Alice's strong hug with one of her own, realizing she'd missed Alice more than she thought she would.
Edmund cleared his throat.
Keira glanced up. "Hello, Ed."
His eyes smoldered with desire. "Keira."
Oh, his red, pouty lips were like chocolate -- tempting her to take another bite. She looked at Rex. "Can you bring appetizers and coffee to my study?"
He arched an eyebrow. "Coffee, My Lady?"
"Yes, coffee."
A little snort escaped his lips, but he departed.

​
Stephanie Burkhart is a 911 dispatcher for LAPD. She was born and raised in Manchester, New Hampshire. After serving 11 years in the US Army she currently calls Castaic, California her home. Stephanie was married in Denmark in 1991 and has two young sons. She adores chocolate, is addicted to coffee and enjoys early morning walks. She's also an assistant den leader for her son's Cub Scout den and is a Boy Scout mom. She writes paranormal, contemporary, and steampunk romance and has two children's books published with 4RV Publishing.

WEBSITE:
http://www.stephanieburkhart.com
TWITTER:
http://twitter.com/StephBurkhart
FACEBOOK:
https://www.facebook.com/StephanieBurkhartAuthor
GOOD READS:
http://www.goodreads.com/author/show/4031660.Stephanie_Burkhart
YOU TUBE CHANNEL:
http://www.youtube.com/user/botrina?feature=mhee
PINTEREST:
http://pinterest.com/sgburkhart/