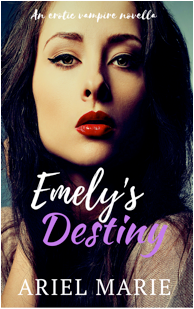 Emely's Destiny
By Ariel Marie
Release Date: 8/20/16
Book Blurb:
Norrix Buchner's loyalty knew no boundaries. As a king's guard and one of the deadliest vampires, he was sworn to remain true to his king. In the absence of his king, he led the king's guard in protecting and providing a safe refuge for displaced vampires. Now that the vampire king had returned, negotiations between vampires and humans have commenced. Norrix was assigned the task to ensure that the humans maintained their part of the treaty. Destiny led him to discover an imprisoned female vampire with large gray eyes and it just about broke him.

Two years had passed since her capture. Life as a lab rat, subjected to inhumane experiments was not how Emely Winter imagined she would spend the rest of her days. She prayed for the day that she would be free, but was beginning to lose all hope. Never in a million years, would she have believed that her rescuer would be the infamous Norrix Buchner, king's guard and champion for vampires everywhere.

Their meeting was unconventional but love was instant. Emely and Norrix's passion burned bright in their darkened world. Destiny may have led them to each other but will Norrix and Emely be able to secure their future, together?
ORDER LINKS! AVAILABLE FOR $0.99 USD.
Amazon → myBook.to/EmelysDestiny
iBooks→ http://apple.co/2artjGY
KOBO→ http://bit.ly/2ayPlcH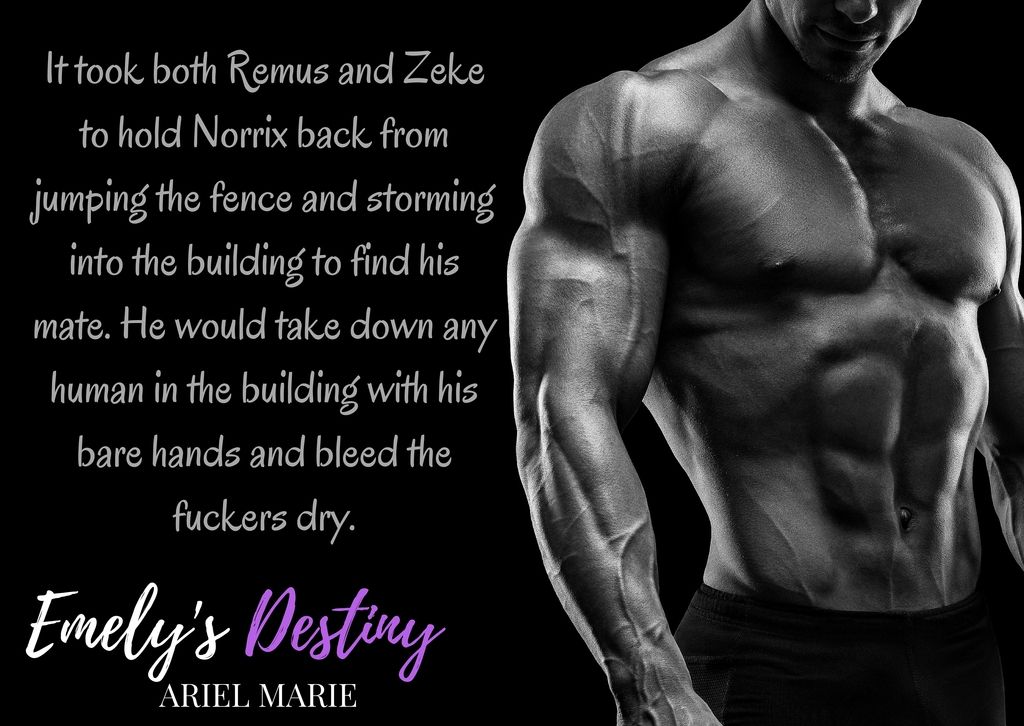 I love how this author continues to enlighten and entertain us. Her vampire characters are written in such a way that you find yourself completely enthralled with them and the story line. I can't wait to see what comes next.

​
About the Author
Ariel Marie fell in love with books at an early age. She can remember her first favorite book. She read the book so many times that it fell apart and she was devastated! Fast-forward thirty years later, Ariel now writes books she hopes readers will fall in love with and read over and over. Paranormal romance is her favorite genre. Who doesn't love Shifters, Witches, Faes and all the other paranormals? She just loves writing about couple's first meeting, the magnetism of when their eyes first meet and the first kiss! Her favorite part of writing paranormals is creating the world that the characters live in.
Ariel Marie's Social Media Links
Twitter: https://twitter.com/the_ArielMarie
Instagram: https://www.instagram.com/arielmarie_author
Goodreads: https://www.goodreads.com/the_arielmarie
Facebook: https://www.facebook.com/authorarielmarie
Google+: https://plus.google.com/u/0/+ArielMarieauthor
Amazon: http://www.amazon.com/-/e/B00WB1SBFC
Bookbub: https://www.bookbub.com/authors/ariel-marie
Website: www.thearielmarie.com
Ariel Marie Newsletter
Ariel Marie loves connecting with her readers. Once a month she personally writes her newsletter for her readers. They are one of the first to learn about book releases, contest and events that she is participating in.
Sign up here: http://www.thearielmarie.com/contact
Join Ariel Marie's Release party on Facebook on 8/20/16!
https://www.facebook.com/events/1203162153068539/