About the Book
​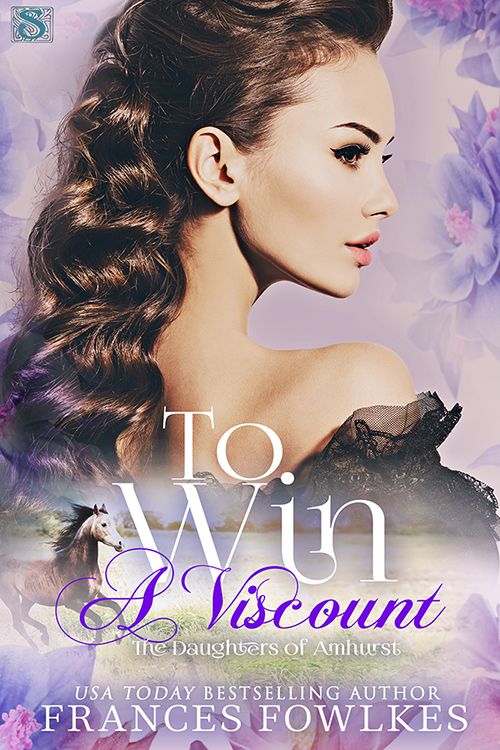 To Win a Viscount (Daughters of Amhurst #2)
Author: Frances Fowlkes
Genre: Historical Romance
England, 1820. To gain a certain marquess's notice, Lady Albina Beauchamp aims to win the derby. What she hadn't planned for is the price handsome Mr. Edmund White asks in payment to train her to race: each lesson for a kiss.
A first place finish isn't the only thing worth racing for
Lady Albina Beauchamp is in love with the Marquess of Satterfield. Unfortunately, his only interest is in horses, and doesn't know she exists. But when the marquess confesses he will bestow his undying admiration on the jockey racing the winning horse at Emberton Derby, Albina sets out to win his affections by training to race.
Mr. Edmund White is a master groomsmen for the Earl of Amhurst in line for a viscountcy, should he abandon his passion for horses and become a respectable sheep owner. But horses are his love--until he meets Lady Albina and her silly notions of racing. When she affirms she will enter the derby with or without his assistance, Edmund not only instructs his student in racing, but seduction as well.

For Albina, a first place finish isn't the only thing at stake. She must decide whether to take her place in society...or follow her heart and love a groom.

Entangled Publishing | Amazon | B&N | iTunes | Kobo | Amazon UK | Amazon CA

"I am not the one claiming the prize, Mr. White. Should you wish to…kiss me, you must...press your lips against mine." Good heavens, she'd never been so mortified. All this talk about kissing took the very romance out of the notion. But then, this kiss was not a romantic intimacy. It was a business transaction. A payment for her incompetency.
"Your lips. On mine. That was the agreed-upon arrangement." He crossed his arms in front of his chest and lifted his chin.
"I do not see how it makes any difference," she said with a huff. "A kiss is a kiss. It does not matter who initiates the act so long as it is given."
"I am afraid I must disagree. Whoever initiates the act sets the tone for the event, thereby altering the effects."
Albina rolled her eyes. "It is but a pressing of one's lips to another's. And that, only for a moment. I sincerely doubt one person's initiation of the event is different from anyone else's."
"Would you care to test your theory?"
She leveled a glare in his direction. "How so?"
"You kiss me," he said, his voice low. "And we assess the results. Then I kiss you and we compare the experience."
She narrowed her eyes. "You wish to kiss me twice?"
"No, I wish to kiss you once, for I claim ownership of the kiss when I initiate the act. Likewise, you would kiss me once when you settle your accounts and do as you have already agreed by settling your lips against mine. I should think it a small price to pay for the sake of an argument, really. And, as you said, it is but a pressing of one's lips to another. For but a moment."
Albina rolled her lips inward and took a deep breath. One kiss had slipped into two. And under the guise of settling an argument she had unknowingly started. But a kiss was no more than what she claimed. A simple act. Nothing more than a settling of accounts.
She let out the breath she had been holding and nodded. "If my compliance allows for my continual access and use of the earl's Thoroughbreds, I agree."

After viewing her all-time favorite love story, "Anne of Green Gables", at the impressionable age of ten, Frances Fowlkes has been obsessed with affable boy-next door heroes, red-heads, and romance stories with lots of "highfaluting mumbo jumbo" written within their pages. It only seems natural then that she married the boy who used to pull on her curls in her high school English class, had not one, but THREE red-headed boys, and penned multiple love stories with bits of flowery prose.
When not writing, Frances loves spending time with her family, fangirling, and planning her next vacation.
Frances Fowlkes, originally a northern mid-westerner, now lives in the southeast with her ardent hero of a husband, three playful and rambunctious boys, and one spoiled standard poodle.
A self-professed Anglophile and summa cum laude graduate of LeTourneau University, Frances Fowlkes combines her passion for happily-ever-afters with her interests in both American and English histories.

Facebook | Website | Twitter | Goodreads​
​