Dr. Gore's Cannibal Circus
by Shawn Seward
Published September 13th 2016 by Sinister Horror
Starting as only a Craigslist Advertisement, Dr. Gore's Cannibal Circus spreads across social media through the Houston area. A one night only event. No one knows if it is real or what to expect. Some believe it's a hoax, or a Cirque Du Soleil show and still others speculate it's a Banksy art instillation.

When Richard meets a girl named Jessica. They plan a date to Dr. Gore's Cannibal Circus. Richard didn't realize that their date, would lead to a night of fighting for their lives.

Tan is a sexual predator. He has an endless appetite for taking advantage of women. His most recent prey is a young teen girl named Jessica. Tan is waiting for his opportunity to strike and the circus is the perfect opportunity to get her.

Maggie wants to rebuild her marriage with her husband Zach, after her recent affair. She believes Dr. Gore's Circus, will provide the perfect night out to reconnect. The circus is not all it seems, and everyone inside will find out why it's called Dr. Gore's Cannibal Circus.

This author continues to push the boundaries of our sanity and completely pushes us over the edge. Your mind is completely and utterly fragmented by the time you reach the end of this book. This sadistic tale has us visiting the circus but trust me this is not a wholesome Barnum and Bailey type of place. The story line is fast paced and encases you in its madness. The characters are well developed and all of them have their own agendas. The world building will have you feeling like you have fallen down a twisted and demonic rabbit hole.
This is another book that is not for those with weak stomachs. Could use some editing but at times some of those issues actually added to the story. I will continue to read the author's books as quickly as he can pump them out.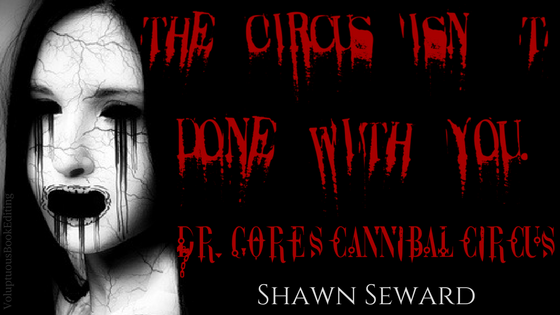 ​