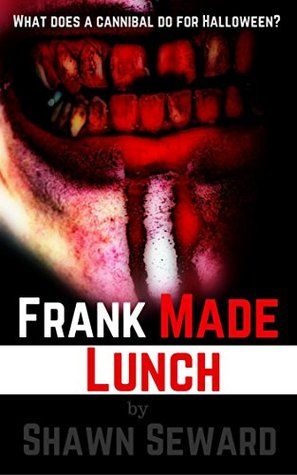 Frank Made Lunch
by Shawn Seward
Published August 11th 2016
Blood lust builds in Frank's heart. His stomach begs for human flesh. On the days leading up to Halloween, Frank's already questionable sanity, deteriorates. He spends his nights working at the local haunted house called Terror Mansion. This only serves, to aggravate his fragile sanity, and fuel his murderous behavior. The question is not whether Frank will kill and eat, but how many will be killed before he is stopped.


Laura is a college student, and works at a local hamburger shop. A new relationship, leads to conflict with an unwanted admirer. She thought he was the worst there was, until Frank gave her free tickets to Terror Mansion, for her and her friends. This is a Halloween, the city will never forget. This is the Halloween, of Frank's ascension.

This is definitely not a read for people who have a delicate stomach or are repulsed by graphic and descriptive reads.
I myself loved the fact that this book really turned my stomach and the horrific story line blew away all rational thinking. This author found the darkest recesses of his mind and invited us in for an exclusive look.
My only con with Frank Made Lunch is that it is in need of editing but even that didn't stop me from giving it the rating that I felt it deserved.
​
This is the BEST horror book I've read this year and trust me...... you WANT to read this. I HIGHLY recommend you read this book and would love this made into a movie. I'll end this review by saying that Frank will remain inside my mind for many years to come.