AUTUMN'S RISE BY R.G.CORR
SPECIALIST BLOG TOUR BY FRANCESSCA'S PR & DESIGNS
SPECIAL BLOG TOUR EVENT CLICK HERE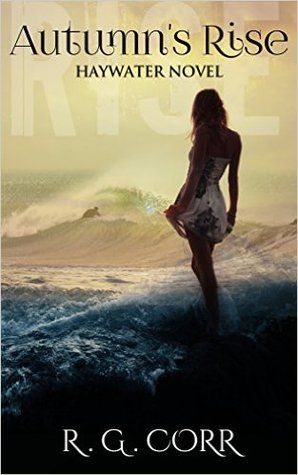 On the discovery of a family secret and the heart-wrenching events that follow, Autumn Chamberlain has lost what little faith she had in those closest to her. Knowing she can never truly live her life if she remains with her family, and with an abundance of guilt laying heavily in her heart, she escapes the lonely world she felt forced to live in and heads to the seaside town of Haywater. The aim, to look for a new beginning, a fresh start. But she has one clear notion – to never love again.

Talented surfer, Zed Maddison, has always worked hard at protecting those closest to him, until the day he fails. Fighting his own demons, Zed flees his close family; unable to
face them and the remorse he feels before finally arriving in Haywater.

When their worlds collide, Zed has an unfathomable need to protect Autumn and becomes relentless in his fight, forcing Autumn's defences to the limit.

Can her secrets remain dead and buried?

Or will a revelation destroy everything?

Add To Goodreads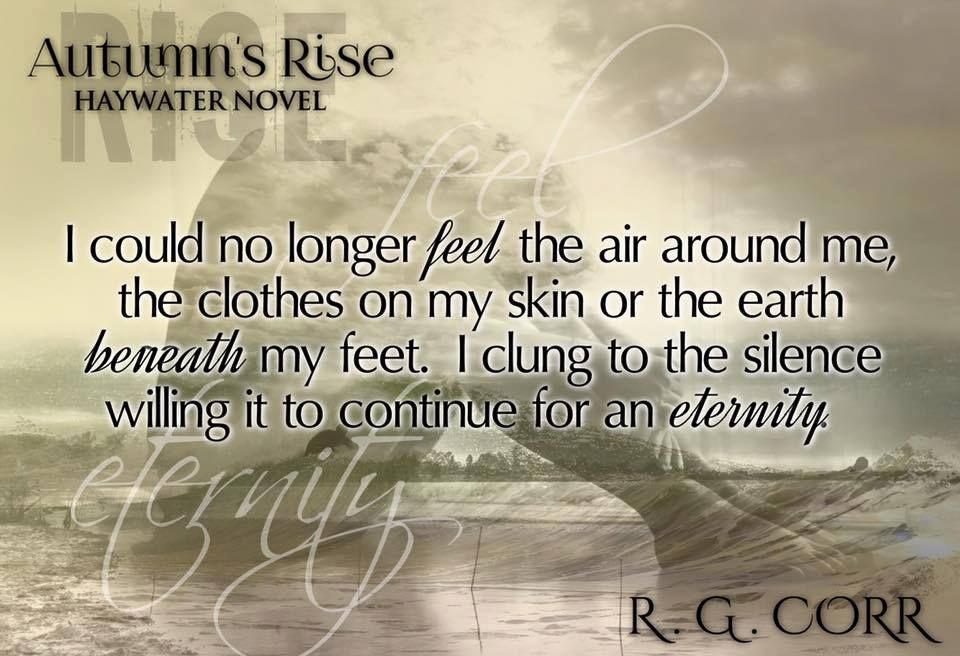 Purchase Links

Amazon UK
Amazon USA

EXCLUSIVE MATERIAL
PROLOGUE – Book Two
BEA
I step out of the car onto the cobbled stone outside the church, but I can't seem to move any further. I don't want to go any further because this should not be happening. None of us should be here, especially Betts.
"Come on, Bea, they're getting out of the other car, we need to go to them. Tyler, walk with your sister."
My brother hangs back because I need a second before I follow. I make the mistake of looking up to the sky—tears immediately fill my eyes. I hadn't noticed until now how bright the sun is shining. The cliché would be for rain to fall and dark clouds to crowd the sky. But that wouldn't be right for Betts. She deserves the sunshine.
With a deep breath, I take my brother's arm, and we make a slow approach. Uncle Mike is the first out of the car. He holds out his palm for Aunt Grace. Zed and Noah get out the other side. The second I see Zed I turn away, unable to witness his pain.
"Christ, he can't live with himself, look at his face."
Immediately, I turn on my brother forcing him to take a step back. "Don't you ever insinuate he didn't do all he could. They both did." I whisper. Reid and Zed had both been there on the day Betts died. Neither could save her. She disappeared beneath the waves before their eyes. They searched and searched… but she wasn't found until hours later. "I have not one single doubt in my mind that this is tearing them to pieces. You never allow those words to leave your lips again." I warn. Tyler bobs his head now, bereft at his statement.
As I finally draw my eyes back up to my cousin, I understand Tyler's words. Pain is etched in every line, every muscle on Zed's face. His eyes are where the sorrow is more visible though, making my cousin unrecognisable. My focus lands to those standing closest to Zed. I promised myself I wouldn't look for him, but I have to. I scan over the many faces but come up empty.
"Where's Reid?" I ask my brother, the confusion evident in my voice. "He needs to be here."
"He told Zed he didn't think it was right to go in the car with them seeing as though he's not family."
"What?" Again I act stunned at my brother. "Of course he's family."
"Well, technically he isn't."
"Tyler Maddison, I swear to God you need to keep that mouth closed, or I'm going to shove it on top of a headstone." Reid is family. He may have lived across the road from my cousins but he was with them every single day, he is as much a part of their lives as I am. Other than Doug and Alice, his foster carers, we are the only family he's ever known.
"I'm sorry, I don't know where this shit is coming from. I guess I don't handle funerals too well. Come on." Tyler gestures for us to continue walking.
As we make our way towards my family, the sound of a motorbike grows closer. My whole body stills, knowing it's him. When the engine shuts off, my body twists of its own accord and my eyes naturally gravitate in his direction. He takes the helmet from his head and lets it hang loosely at his side. With his eyes to the ground, he steps off his bike and hangs his leather jacket on the handle bars. With feet that appear as heavy as lead, he approaches our family. Briefly, his eyes link to mine, and I face an emptiness I've witnessed once before. The day Reid arrived in Merribay. I draw in a breath in an attempt to alleviate the pain that reverberates through my chest at the sight of the lost boy who has once again returned. Dropping his focus, he steps to Zed, and I watch as Zed wrenches Reid to him. They stand, united in each other's sorrow. One has lost a sister, the other the only girl he's ever wanted to protect.
Tyler squeezes my hand before he joins the rest of the men. I watch in agony as Uncle Mike, my dad, Zed, Noah, Tyler, and finally Reid, step to the coffin ready to accept my cousin for her final journey.
My cousin who I have already failed. My cousin who asked something of me and instead of saying yes, I should have said no. My thoughts veer to the last time I saw Betts, the day I made her a promise.
I draw my knees to my chest and wrap my arms around them before watching him out at sea.
"You're actually going to do this?" I ask, my voice barely above a whisper. We both have our eyes trained on one man, the man whose heart my cousin is about to break. Reid Banner.
"Yes, I am. It's the right thing to do," Betts replies. "I thought, out of everybody, you would understand. He's my friend, Bea, my best friend. He's not the man I am in love with, you know that."
I shake my head and let out a breath.
"You have to trust me on this, Bea. He has never wanted me to see life in any way other than perfect," she continues. "So he's stayed by my side, believing he's protecting me when the one he is shielding from pain is himself. He wants to live in this sheltered existence he's created because Reid knows just how disappointing the outside world can be." Her voice trails off, and she remains quiet. I immediately sense her unease. "This isn't just about him, Bea." She lowers her eyelids and whispers. "I'm selfish; I know I am but I want to get out and experience the world. I love him but not in the way he deserves and it's suffocating me. He's been my strength for as long as I can remember but I want to gain my own strength now and in turn, release him. So I'm going to ask you something… and you're going to think I'm crazy…" I loosen the grip on my legs and return her gaze. She provides me with that heart-warming smile she owns. "I need you to promise that you'll be there for him."
"What?" I whisper-shout. "Me? You want me to promise?" I stare at my cousin open-mouthed.
She grins back. "Yeah, you."
"He can barely look at me without it sparking some sarcastic comment. I am not the person you should be asking." What is she thinking? I stand up with a start and gather my belongings. I'm leaving for home today, and this is not a conversation I need to be having. I can't believe she is asking me. "Me?" I stare at her dumbfounded. Reid Banner has quite frankly been a total arse to me since the day we met. I get it, and I'm okay with it. He needs someone, like a bully needs a target. He needs to vent, to express his anger and because I've pretty much been blessed with a life that was the total opposite of his, I take it, preferring the words of spite that leave his lips to be aimed at me rather than someone like Betts because the words and taunts would crucify her. So I know right now my cousin is bat shit crazy. I am the last person Reid will ever need.
"Yes, you." She repeats gently and reaches for my hand. "You're the only person it can be."
"Betts…" I shake my head on an exhale. "It's one thing putting up with his comments and digs but what you're asking me… It would be like inviting the abuse into my life, and that's a whole new level of insanity. You know what he's like with me. Why would you ask me?"
She lowers her chin and looks away from me. "There are things you don't understand about Reid, reasons for the way he is… He'll never leave me, Bea but I need him to, he needs me to."
"You're crazy," I mutter, shaking my head in disbelief. Betts is basically asking me to put myself in prime position to receive Reid's taunts. He's going to be hurting and want to lash out even more than he has before.
"Like I say, there are things about Reid you don't know. I just want you to check in with him once in a while—"
"Are you planning on going somewhere?"
"No, I will be here, but it will take time for him to recognise that separating ourselves is the right thing to do. He has Zed, and they're pretty tight, but Reid still keeps the one thing that matters from both of us. His past. He says he doesn't remember, that he was too young, but I don't believe him. I think he was hurt… a lot… before he came here. One day he'll be ready to talk. I want him to have someone willing to listen."
"And you're insinuating that I be the one to listen?" My voice hitches up in volume.
"I think you're just the person that needs to hear it." I widen my eyes incredulously. My cousin has totally lost it.
"Bea!" She nods her head. I follow her signal. Reid is approaching us—his expression softens the moment his eyes land on Betts. She is the only girl Reid has ever allowed to come close to entering his heart. Her palms have wrapped around it, cushioning it, preventing it from any further pain. With a sinking feeling, I realise once Betts releases the protective hold she has on him, his heart is liable to break all over again.
"For me, Bea. Promise me." She whispers her plea.
I'm quiet for what seems like an eternity which confuses me because I knew my answer the second she asked. "I promise."
Accepting mum's outstretched arm, I drop my chin to my chest and take my heartache with everyone else's into the church. Tears once again begin to fall.
I cry for the beautiful blue eyed girl we have all lost.
I cry for the guilt that lies so heavily in my heart, knowing I will never see Betts again to offer her my apology.

About The Author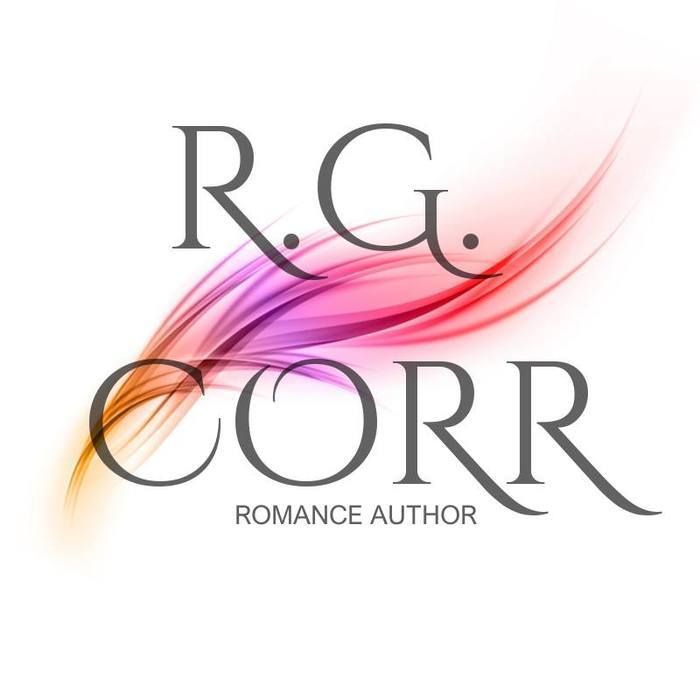 R. G. Corr is a mum of 3 who loves to read almost as much as she does to write. When she's not working or writing, you'll find her nose deep in her kindle swooning over her latest book boyfriend.

Having had an overactive imagination for many years, a discussion with a friend at a soft play area, amidst the noise and mayhem of toddlers, finally convinced her to put pen to paper and write her first novel.

Autumn's Rise, book one in the Haywater series, was released in February 2016. Book two will follow later in the year.

You can keep in touch with her via:

Facebook
Twitter
Instagram