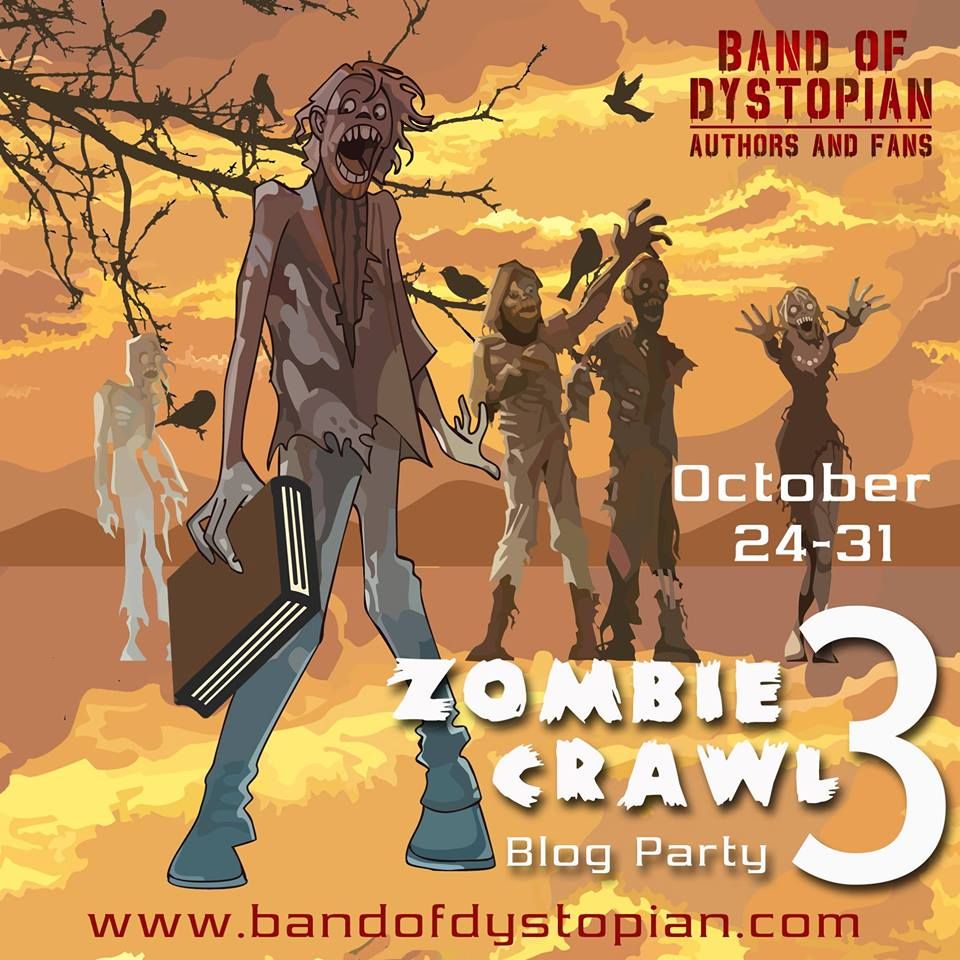 Welcome to my stop on the 2016 Zombie Crawl!!!!
Today I will tell you what my top 5 horror reads were for this year. I'm sharing the book cover, synopsis and Goodreads link for each. These are in no particular order. Let's get started.
Blood lust builds in Frank's heart. His stomach begs for human flesh. On the days leading up to Halloween, Frank's already questionable sanity, deteriorates. He spends his nights working at the local haunted house called Terror Mansion. This only serves, to aggravate his fragile sanity, and fuel his murderous behavior. The question is not whether Frank will kill and eat, but how many will be killed before he is stopped.
Laura is a college student, and works at a local hamburger shop. A new relationship, leads to conflict with an unwanted admirer. She thought he was the worst there was, until Frank gave her free tickets to Terror Mansion, for her and her friends. This is a Halloween, the city will never forget. This is the Halloween, of Frank's ascension.
On a beautiful summer day five friends embarked on what was supposed to be an adventurous ten-mile hike, to a hidden bridge built in the middle of a mountain that not very many people know of. What was supposed to be a beautiful, enjoyable, relaxing weekend becomes more than they could bargain for full of screams and horrors that you have only dreamed of in your worst nightmares. Trapped in the middle of nowhere can these five friends make it back to safety or will the monsters of the mountains chase and pick them off one by one. Who will survive? Who will die?
Scott was enjoying his last year of high school with his best friends. The only thing better than school ending is the romance that has ignited with his crush Sarah. A fun idea sends the group exploring at an old abandoned hospital. Gruesome and horrible events unfold leading Scott to find that hell is not some fairy tale. Evil is real and they found it.
The first anthology by Jaded Books Publishing featuring the best new and upcoming horror authors. Cory Cline, Xtina Marie, Michael Noe, Scott and Peyton Pratt, Kasey Hill, A.T. King and James Harper. In the land of nightmares and gore lives a troop of authors that were sent to haunt your happy dreams. 10 authors came together with stories of their grunge filled minds to put your horrorfest withdrawals to ease. The Choking Cat is a terror spun tale that puts our feline friendlies into the line of fire as the owner discovers its misbehaving after her week long cruise. Trash Bag Whore serial killer, Nathan, gets into your head and makes you wonder if multiple doppelgängers battle for control of you. Mama N throws a new perspective on the zombie apocalypse as they torture and kill those freshly bitten, as well as their families. Gaebler's Asylum of the Damned leaves you wondering if the Devil does infiltrate the minds of the insane and they aren't really crazy. Death Ray puts a new perspective on Tesla's state of mind; harmless inventor or psychopath in the making. Ghoul leaves you rethinking that trip of guilty pleasures when visiting the graveyard. He Doesn't know poem ending this horrific tale of tales puts you in the twisted mind of a lovesick stalker. Dread filled and craftily planned, this anthology leaves you chewing your nails as you wait for twilight to dwindle and dawn to emerge
Starting as only a Craigslist Advertisement, Dr. Gore's Cannibal Circus spreads across social media through the Houston area. A one night only event. No one knows if it is real or what to expect. Some believe it's a hoax, or a Cirque Du Soleil show and still others speculate it's a Banksy art instillation.
When Richard meets a girl named Jessica. They plan a date to Dr. Gore's Cannibal Circus. Richard didn't realize that their date, would lead to a night of fighting for their lives.
Tan is a sexual predator. He has an endless appetite for taking advantage of women. His most recent prey is a young teen girl named Jessica. Tan is waiting for his opportunity to strike and the circus is the perfect opportunity to get her.
Maggie wants to rebuild her marriage with her husband Zach, after her recent affair. She believes Dr. Gore's Circus, will provide the perfect night out to reconnect. The circus is not all it seems, and everyone inside will find out why it's called Dr. Gore's Cannibal Circus.
Shawn Seward has all his books available for free but only for a limited time. Click on the graphic to get to his Amazon page! Please note that these books are not for those with weak stomachs!!
​

Zombie Crawl 3
a blog party from Band of Dystopian Authors & Fans
October 24 - 31, 2016
How it works: Each day, the scheduled authors and bloggers will post awesome zombie-tastic content for your enjoyment along with a giveaway on their site/blog/page. You can hop around to all of the participating sites and enter as many giveaways as you like! The easiest way to make sure you don't miss a post is to join our Facebook event page, where we'll post links each time an author or blogger participates on their scheduled day. We'll also have several flash giveaways on the event page as well as a grand prize giveaway on BandofDystopian.com. And of course, you can use the schedule below to click through to each site. Make sure to leave comments and interact with the participating sites. Have fun, and thanks for joining the party!
The Schedule
OCTOBER 24 – Monday
Jeffrey Clare (publisher, group host)
Christina L. Rozelle (author)
OCTOBER 25 – Tuesday
Digital Dirty Girl Book Blog (blog)
Rissa Blakeley (author)
OCTOBER 26 – Wednesday
R.L. Blalock (author)
Bryan Way (author)
Post-Apocalyptic Playground (blog)
OCTOBER 27 – Thursday
Claire C. Riley (author)
M. Lauryl Lewis (author)
OCTOBER 28 – Friday
The Voluptuous Book Diva (18+ blog)
YA Book Divas (blog)
Grivante (author)
OCTOBER 29 – Saturday
Kate L. Mary (author)
Brea Behn (author)
OCTOBER 30 – Sunday
Cameo Renae (author)
J.W. Vohs (author)
OCTOBER 31 – Monday
Kelsey D. Garmendia (author)
Lindsey Winsemius (author)
Casey Hays (author)
Lee Ryder (author)
- - -
To learn more about Band of Dystopian and/or to enter our Grand Prize Giveaway, visit BandofDystopian.com and don't forget to join the group on Facebook!