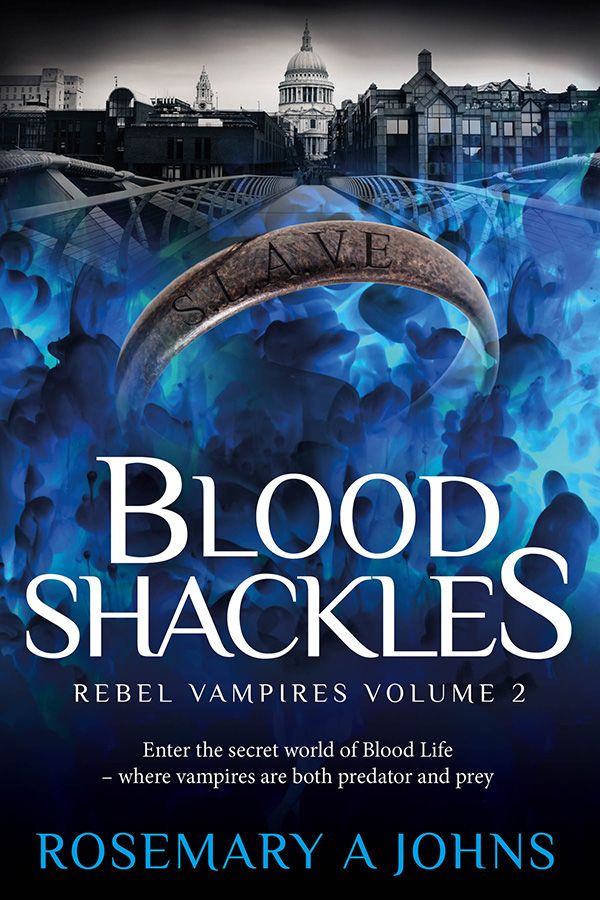 Blood Shackles
(Rebel Vampires Volume 2)
by Rosemary A. Johns
WELCOME TO THE BLOOD CLUB

Light is a Rocker Blood Lifer with a talent for remembering things. He's meant to be the predator. It's been that way since Victorian times. But not now. Not since someone hunted him. Enslaved him. Ripped out his fangs. Who are these ruthless humans? Who's their violent leader? And who betrayed the secret of the Blood Lifer world?

WHERE THE PREDATORS

London, Primrose Hill. Grayse is the commanding but alluring slaver's daughter. The enemy. She buys Light, like he's a pair of designer shoes. So why does Light feel so drawn to her? Especially when his family is still in chains. Will he risk everything – even his new love – to save them?

BECOME THE PREY

Does a chilling conspiracy lie behind it all? A stunning revelation leads Light to an inconceivable truth. If he can face his worst terrors, he can save his family and his whole species from slavery.

Maybe he can even save himself.

The third book in the series, BLOOD RENEGADES, will be out Spring 2017
EXCERPT
'So I'm behind the times because I died a Victorian?'
Your cool gaze seemed to be sussing me out. 'You don't look Victorian.'
'Didn't exactly stay dead.' I pushed away from the fireplace, jumping up to sit on the arm of the leather sofa. I scrutinized your serious features and those intent grey peepers. 'You really don't know anything about us Blood Lifers, do you? How we evolved or--'
'I know enough.'
Surprised, I drew back. 'As in, only good Blood Lifer's a dead Blood Lifer?'
You shot me a sharp look. 'You wouldn't be here, if that's what I thought.'
'Alright then, as in, only good Blood Lifer's one in shackles?'
Your mouth tightened into a thin line. 'And what about humans? Do we come in small, medium or large?'
'In America you can supersize.' I grinned, but you didn't return it: some birds have no sense of humour. Of course, Ruby would've clocked me for that comment. 'Look, that's not who I am now. I've been on blood abstention for fifty years.'
Your voice was so cold it could've given frost bite. 'Good for you.'
'Not asking for a medal, sweetheart. I just wanted you to know I don't… Not First Lifers. Not for a long time.'
'Makes no difference to me.'
'It does to me. You've no idea how much.'
'OK.' You turned back to your laptop, opening it with an air of indifference. Then there was that blasted clack clacking.
I listened for a moment in silence. Then I couldn't hack it any longer. 'What does?'
'What?' You didn't stop typing or look away from the screen.
'Make a difference to you?'
You didn't even pause. 'The profit margin.'
GUEST POST
Peepers, Starkers and Bint – The One Minute Guide to Talking Like Light
Firstly, thanks for having me on your site!
Light – the British Rocker vampire with a photographic memory – is the heart of my new fantasy series Rebel Vampires. In a hidden paranormal London where death drives desire, vampires are both predator and prey.
The first standalone book in Rebel Vampires is Blood Dragons. After a century of love with a savage Elizabethan Blood Lifer (vampire), Light falls in love with a forbidden human in the wild 1960s music scene.
Blood Dragons is out now (e-book and paperback). Click here: http://viewbook.at/BloodDragons
Blood Shackles – the second standalone book in the series – is like Taken. But with vampires. With added romance.
Light is abducted, defanged and enslaved by the secret human Blood Club. But there's a much larger conspiracy behind it all. And he has to fight to free not just himself and his family. But his entire species from slavery.
Light was elected in Victorian England. He was raised in Watford. But his papa was killed and he was put into a cruel Orphan School.
Blood Lifers, however, don't stand still, trapped in one time, as they travel through the years. In Blood Dragons you discover why Light loves the 1960s. He's melded that way of speaking to his Victorian slang:
'His Nibbs in the charcoal suit scanned across to me with dark peepers; I didn't reckon he was the sort to miss much, or maybe he was simply the only one here, who wasn't spaced out of his head. 'This your babby then?'
I raised my eyebrow. 'Don't see no bloody rattle, mate.'
For the first time Ruby seemed to notice me. She made a strange type of hushing motion. 'Aralt, he is--'
'A wee gobshite?'
'Name's Light,' I pushed in from the doorway.
I tried to read Ruby's expression but found I couldn't. It was different from the one I knew. It nearly sodding killed me to see that in the years we'd swum in each other's Souls - together in Blood Life – she'd held back this fragment from me.
'Someone's big on irony,' Aralt deadpanned.'
Blood Dragons (Rebel Vampires Volume 1)
http://viewbook.at/BloodDragons
You learn how Light gained his iconic leather jacket. I won't give spoilers but here's a sneak peek:
' 'Hey man, so you're a Rocker?' The Mod eyed my studded leather jacket, before sauntering towards me, wiping blood from the corner of his mouth. 'Guess we're gonna have to fight then? What a drag.'
Bollocks – Aralt and Donovan, Ruby's twin brothers, the most powerful Blood Lifers in London - and already one thought I was a wanker and the other wanted to give me a hiding.
Yeah, everything was tickety-boo.
'Depends how you figure it. Ate some bloke, nicked his coat. But you? Bought those threads, right?' '
So… want to speak like Light? Here's the…
One Minute Guide:
Peepers – eyes

Gob – mouth

Mush – face

Mug – face

Starkers – Naked

Bint – Girl/woman (but not flattering…)

His Nibbs – mocking way to refer to someone self-important

A hiding – severe beating

Tickety-boo – great/fine i.e. 'everything is tickety-boo'

Nicked – stole

Threads – clothes

Wanker/berk/pillock – insults – all essentially meaning an idiot

Barney – a fight

Bollocks - Light's number one word. And it means… total rubbish.
And now you can talk like Light… Elizabethan Ruby or Brixton punk M.C.? They're something else altogether…
Author Bio
ROSEMARY A JOHNS is a traditionally published author of short stories under the name R. A. Johns. She is the author of Blood Dragons the compelling first instalment of the Rebel Vampires series.
Rosemary A Johns wrote her first fantasy novel at the age of ten, when she discovered the weird worlds inside her head were more exciting than double swimming. Since then she's studied history at Oxford University, run a theatre company (her critically acclaimed plays have been described as "uncomfortable, unsettling and uneasily true to life"), and worked with disability charities.
When Rosemary's not falling in love with the rebels fighting their way onto the page, she heads the Oxford writing group Dreaming Spires
Rosemary is a Goodreads Author: https://www.goodreads.com/book/show/31348711-blood-dragons
To sign up to Rosemary A Johns' VIP Email Newsletter with news of hot releases, promotions and the free short story "All the Tin Soldiers", click here: http://eepurl.com/bQ0kMX
https://rosemaryajohns.com
https://www.facebook.com/RosemaryAnnJohns
@RosemaryAJohns
https://uk.pinterest.com/rosemaryjohns1
https://plus.google.com/110702840231491433662/about
https://uk.linkedin.com/in/rosemary-johns-488603121