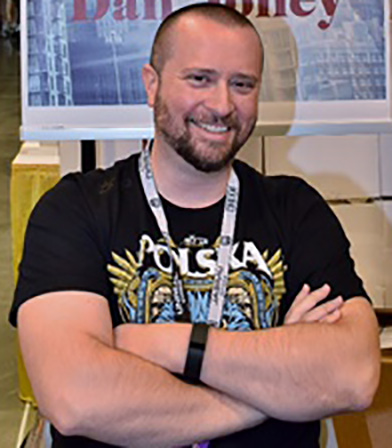 About the author
Dan Jolley began writing professionally at age 19. Starting out in comic books, Dan has worked for major publishers such as DC (Firestorm), Marvel (Dr. Strange), Dark Horse (Aliens), and Image (G.I. Joe), and soon branched out into licensed-property novels (Star Trek), film novelizations (Iron Man), and original novels, including the Middle Grade Urban Fantasy series Five Elements and the Urban Sci-Fi Gray Widow Trilogy.
Dan began writing for video games in
2007,
and has contributed storylines, characters, and dialogue to titles such as Transformers: War for Cybertron, Prototype 2, and Dying Light, among others. Dan lives with his wife Tracy and a handful of largely inert felines in northwest
Georgia,
and enjoys connecting with readers via his website (www.danjolley.com) and on Twitter (@_DanJolley).
Book Synopsis for The Storm:
A tiny town in Georgia's northwest corner — ninety-five percent white. Five percent black. Utterly unprepared for the devastating tornado that rips and smashes through it one dark August day.
SHERIFF ZANDRA SEAGRAVES already faced an uphill battle. Elected by a fluke, Red Springs' first-ever black, female sheriff leads the recovery efforts, despite knowing how much the townspeople–and her own department–loathe her. But Zandra has no idea just how hellish things are about to get.
Because one of the relief workers stumbles across a ghastly secret: the tornado tore a long-abandoned house off its foundations, revealing a grisly, recently-used torture dungeon below it.
A monster has been dwelling in Red Springs. Undetected for years. Preying on the unsuspecting populace. His atrocities only brought to light because of the storm.
Now, amid the tornado's wreckage and surrounded by people who want her gone, Zandra has to hunt this monster down before he disappears again.
And to do it, she'll have to peel back all of Red Springs' dark, corrupted layers. One vile secret at a time.
Guest Post
In my experience, there are in general two kinds of writers.
There's the Dean Koontz variety — the people who start in at 9:00 a.m. and write, solid, all day every day until the evening, pumping out draft after draft after draft until they're satisfied with the work.
Then there are the writers who *think* about a story first. The story lives in their heads for weeks, or months, or sometimes years, and when it finally finishes gestating, they write it all down in a great rush.
I'm solidly in that second category.
I write in bursts — four hours, maybe five at the outside, at a time. Any more than that and my brain basically turns to mush. I know from experience that if I try to power through and keep writing when I have mush-brain, whatever I produce turns out to be crap. I don't want to produce crap. So I've learned to pay heed to my mush-brain-
edness
and cut off when I'm supposed to cut off.
Now, there have been plenty of days when I'm up against a deadline, so when I need to, I'll go off and do something else for an hour, maybe ninety minutes, then come back and keep going once my gray matter has re-solidified. But most of the time, once I hit my limit, I'm done for the day.
If I don't have any household projects going on, a lot of the time what that looks like is:
1. Get up, have breakfast, putter around the house
2. Play video games for several hours
3. Get to work around 1:00 or 2:00
4. Knock out ten or fifteen or twenty pages by the time my wife gets home from work.
I know a few writers who can do twenty or thirty thousand words in a single day, which blows my mind. The best I've been able to manage is just north of five thousand. But if you're shooting for a hundred-thousand-word novel, and you keep up the 5K per day, then it's not
that
hard to turn out an acceptable first draft in about a month (allowing for keeping your weekends free, which I try my best to do, for the sake of both my marriage and my mental health).
Completing the first draft of a 100K-word manuscript in a month might sound fast, and I guess it is, relatively. But that doesn't account for all the preliminary mental work.
The first real novel I ever wrote was not the first one I got published. I had the initial idea for what would become "Gray Widow's Walk" in 1991. I toyed with making it a comic book for a while,
then
wanted to write it as a screenplay, and finally settled on doing it as a novel. So I wrote a draft in 1997, got summarily rejected by a literary agent who told me "No one's interested in superheroes," and shelved it.
I ended up thinking about it, off and on, for ten years, pulled it out and re-wrote it, shelved it again, and thought about it for another ten years. When I finally figured out what was wrong with it and re-wrote it again, it immediately got snapped up by Seventh Star
Press,
and published in 2016.
In the meantime, I turned out a pretty decent volume of other work, including comic books and video games and unrelated novels.
In 2011, a massive tornado hit Ringgold, Georgia, the town where I live. I was born and raised here, lived here until I was nineteen, then returned when I was thirty-eight and have been here since then. The tornado did an enormous amount of damage, killed eight people, and fundamentally changed the character of the town.
What if the tornado destroyed a house and revealed a secret that no one would have ever known otherwise? That seed of a story bounced around in my head for a few months—while the emergency services crews came in and rebuilt the town, along with a ton of civilian volunteers—and eventually started seeming like an entire story.
At
first
it was going to be a supernatural story, and I toyed with calling it "The Bone Storm." But the more it took shape, the more it seemed like a straight-up thriller. It would be my first. I had never written a non-science-fiction, non-fantasy book before, and I liked the idea of that in itself. It'd be a good challenge.
Starting around 2014, when I connected with my current manager, Alex, I began to make some slow but steady inroads into Hollywood. Getting to know people, "taking meetings," sending scripts out there. I finally managed to sell a pilot last year with my occasional co-writer, the supremely talented Shawn deLoache, but a shakeup at the studio sent all of the attached executives packing. Consequently, that's not moving forward at the moment.
During one of the twice-yearly, week-long periods when I fly to L.A. and talk to all these people, however, the concept of "The Storm" bubbled up to the surface. I started mentioning it when people asked, "What else are you working on?" This was in February of 2018. So the idea had been developing for about seven and a half years at that point.
My description of the circumstances, the personal connection, and the story itself all went over brilliantly. There was definite interest. But I was also told, universally, that it would be much, *much* easier to do something with it if it were based on something else. Hollywood these days absolutely loves source material—when the idea has already existed in some prior form, such as a comic book, or a novel, or a magazine article. One executive told me flat-out, "If you came in here with this as a book? It'd be a slam dunk."
So I came home, called up Stephen Zimmer at Seventh Star, pitched him the idea, and immediately signed a deal for it. I had other projects going on at the same time, so the first draft took about two and a half months, rather than four weeks. It came out in December of 2018. I'm headed back to L.A. in June to pitch it again, now that it has source material
backup
, so we'll see what happens there.
This is not to say that it always
take
years for a concept to come together. I pitched an idea for a YA sci-fi espionage comic book project to
TokyoPop
back in 2006 called "Alex Unlimited." They took about a month to say yes, and then about six weeks to try (and fail) to settle on an artist. At that
point
I made the
suggestion,
since I knew they wanted to launch a line of prose projects, that I write it as a novel series instead. They instantly agreed. The three "Alex Unlimited" novels came out in 2007 and 2008, and from
idea
to finished Book 1 manuscript took five or six months.
(Also, way back in the foggy mists of long ago, I did a "Doctor Strange" comic book mini-series for Marvel, and that took about seventeen hours for the artist and me to come up with an idea, pitch it to an editor, and get approval. That was a *massive* anomaly.)
Basically, the path from idea to finished product… just depends. It depends on you, your process, how you go about getting it published, the whims of the market, the whims of your editors, etc. It's impossible to predict.
But if you're feeling bad about a project taking a long time to come together, my best advice would be: don't. It's just a thing that happens. Keep at it. You'll get there.
(Unless you're on a publishing deadline. Then you've got to get that $#!+ done post-haste!)
Author Links:
Twitter:
@_DanJolley
Website:
www.danjolley.com
Tour Schedule and Activities
2/18 Jazzy Book Reviews
https://bookreviewsbyjasmine.blogspot.com/
Top Ten's List
2/19
I Smell Sheep http://www.ismellsheep.com/
Vlog
2/20 Breakeven Books
https://breakevenbooks.com
Guest Post
2/21 Sheila's Guests and Reviews
http://sheiladeeth.blogspot.com
Guest Post
2/22 Jordan Hirsch
http://jordanrhirsch.wordpress.com
Review
2/23 Sapphyria's Books
https://saphsbooks.blogspot.com/
Guest Post
2/23 The Book Lover's Boudoir
https://thebookloversboudoir.wordpress.com/
Review
2/24 Horror Tree
https://www.horrortree.com
Guest Post
2/24 Willow's Thoughts and Book Obsessions
http://wssthoughtsandbookobsessions.blogspot.com/
Review
2/25 The Voluptuous Book Diva
http://www.thevoluptuousbookdiva.com
Guest Post
Amazon Links for The Storm
Print Version:
https://www.amazon.com/Storm-Dan-Jolley/dp/1948042665/
Kindle Version:
https://www.amazon.com/Storm-Dan-Jolley-ebook/dp/B07LC78379/
Barnes and Noble Link for The Storm:
https://www.barnesandnoble.com/w/the-storm-dan-jolley/1130007043?ean=9781948042666